Deprecated
: Non-static method JLoader::register() should not be called statically, assuming $this from incompatible context in
/home1/alekos/public_html/villamatella.gr/modules/mod_jflanguageselection/mod_jflanguageselection.php
on line
37
Strict Standards
: Non-static method JLoader::load() should not be called statically in
/home1/alekos/public_html/villamatella.gr/libraries/loader.php
on line
161
Strict Standards
: Non-static method JLoader::register() should not be called statically in
/home1/alekos/public_html/villamatella.gr/libraries/loader.php
on line
138
Strict Standards
: Non-static method JFactory::getDBO() should not be called statically in
/home1/alekos/public_html/villamatella.gr/administrator/components/com_joomfish/helpers/extensionHelper.php
on line
56
Deprecated
: Non-static method JFactory::getDBO() should not be called statically, assuming $this from incompatible context in
/home1/alekos/public_html/villamatella.gr/modules/mod_jflanguageselection/mod_jflanguageselection.php
on line
42
Deprecated
: Non-static method JLoader::import() should not be called statically, assuming $this from incompatible context in
/home1/alekos/public_html/villamatella.gr/modules/mod_jflanguageselection/mod_jflanguageselection.php
on line
46
Strict Standards
: Non-static method JLoader::import() should not be called statically in
/home1/alekos/public_html/villamatella.gr/libraries/loader.php
on line
186
Deprecated
: Non-static method JLoader::register() should not be called statically, assuming $this from incompatible context in
/home1/alekos/public_html/villamatella.gr/modules/mod_jflanguageselection/mod_jflanguageselection.php
on line
47
Deprecated
: Non-static method JModuleHelper::getLayoutPath() should not be called statically, assuming $this from incompatible context in
/home1/alekos/public_html/villamatella.gr/modules/mod_jflanguageselection/mod_jflanguageselection.php
on line
49
Strict Standards
: Non-static method JLoader::import() should not be called statically in
/home1/alekos/public_html/villamatella.gr/libraries/loader.php
on line
186
Deprecated
: Non-static method JDispatcher::getInstance() should not be called statically, assuming $this from incompatible context in
/home1/alekos/public_html/villamatella.gr/modules/mod_jflanguageselection/mod_jflanguageselection.php
on line
62
Deprecated
: Non-static method JPluginHelper::importPlugin() should not be called statically, assuming $this from incompatible context in
/home1/alekos/public_html/villamatella.gr/modules/mod_jflanguageselection/mod_jflanguageselection.php
on line
63
Deprecated
: Non-static method JPluginHelper::_load() should not be called statically, assuming $this from incompatible context in
/home1/alekos/public_html/villamatella.gr/libraries/joomla/plugin/helper.php
on line
92
Deprecated
: Non-static method JPluginHelper::_import() should not be called statically, assuming $this from incompatible context in
/home1/alekos/public_html/villamatella.gr/libraries/joomla/plugin/helper.php
on line
97
Deprecated
: Non-static method JFactory::getConfig() should not be called statically, assuming $this from incompatible context in
/home1/alekos/public_html/villamatella.gr/modules/mod_jflanguageselection/mod_jflanguageselection.php
on line
73
Strict Standards
: Non-static method JFactory::getDBO() should not be called statically in
/home1/alekos/public_html/villamatella.gr/modules/mod_jflanguageselection/helper.php
on line
109
Strict Standards
: Non-static method JURI::getInstance() should not be called statically in
/home1/alekos/public_html/villamatella.gr/modules/mod_jflanguageselection/helper.php
on line
112
Strict Standards
: Non-static method JFactory::getApplication() should not be called statically in
/home1/alekos/public_html/villamatella.gr/modules/mod_jflanguageselection/helper.php
on line
116
Deprecated
: Non-static method JFactory::getConfig() should not be called statically, assuming $this from incompatible context in
/home1/alekos/public_html/villamatella.gr/includes/application.php
on line
372
Strict Standards
: Non-static method JLoader::import() should not be called statically in
/home1/alekos/public_html/villamatella.gr/libraries/loader.php
on line
186
Deprecated
: Non-static method JRouter::getInstance() should not be called statically, assuming $this from incompatible context in
/home1/alekos/public_html/villamatella.gr/libraries/joomla/application/application.php
on line
674
Deprecated
: Non-static method JError::isError() should not be called statically, assuming $this from incompatible context in
/home1/alekos/public_html/villamatella.gr/libraries/joomla/application/application.php
on line
675
Strict Standards
: Non-static method JFilterInput::getInstance() should not be called statically in
/home1/alekos/public_html/villamatella.gr/modules/mod_jflanguageselection/helper.php
on line
125
Deprecated
: preg_replace(): The /e modifier is deprecated, use preg_replace_callback instead in
/home1/alekos/public_html/villamatella.gr/libraries/joomla/filter/filterinput.php
on line
512
Deprecated
: preg_replace(): The /e modifier is deprecated, use preg_replace_callback instead in
/home1/alekos/public_html/villamatella.gr/libraries/joomla/filter/filterinput.php
on line
514
Deprecated
: preg_replace(): The /e modifier is deprecated, use preg_replace_callback instead in
/home1/alekos/public_html/villamatella.gr/libraries/joomla/filter/filterinput.php
on line
512
Deprecated
: preg_replace(): The /e modifier is deprecated, use preg_replace_callback instead in
/home1/alekos/public_html/villamatella.gr/libraries/joomla/filter/filterinput.php
on line
514
Deprecated
: preg_replace(): The /e modifier is deprecated, use preg_replace_callback instead in
/home1/alekos/public_html/villamatella.gr/libraries/joomla/filter/filterinput.php
on line
512
Deprecated
: preg_replace(): The /e modifier is deprecated, use preg_replace_callback instead in
/home1/alekos/public_html/villamatella.gr/libraries/joomla/filter/filterinput.php
on line
514
Deprecated
: preg_replace(): The /e modifier is deprecated, use preg_replace_callback instead in
/home1/alekos/public_html/villamatella.gr/libraries/joomla/filter/filterinput.php
on line
512
Deprecated
: preg_replace(): The /e modifier is deprecated, use preg_replace_callback instead in
/home1/alekos/public_html/villamatella.gr/libraries/joomla/filter/filterinput.php
on line
514
Deprecated
: preg_replace(): The /e modifier is deprecated, use preg_replace_callback instead in
/home1/alekos/public_html/villamatella.gr/libraries/joomla/filter/filterinput.php
on line
512
Deprecated
: preg_replace(): The /e modifier is deprecated, use preg_replace_callback instead in
/home1/alekos/public_html/villamatella.gr/libraries/joomla/filter/filterinput.php
on line
514
Deprecated
: preg_replace(): The /e modifier is deprecated, use preg_replace_callback instead in
/home1/alekos/public_html/villamatella.gr/libraries/joomla/filter/filterinput.php
on line
512
Deprecated
: preg_replace(): The /e modifier is deprecated, use preg_replace_callback instead in
/home1/alekos/public_html/villamatella.gr/libraries/joomla/filter/filterinput.php
on line
514
Strict Standards
: Non-static method JComponentHelper::getParams() should not be called statically in
/home1/alekos/public_html/villamatella.gr/modules/mod_jflanguageselection/helper.php
on line
151
Strict Standards
: Non-static method JFactory::getConfig() should not be called statically in
/home1/alekos/public_html/villamatella.gr/modules/mod_jflanguageselection/helper.php
on line
167
Strict Standards
: Non-static method JFactory::getConfig() should not be called statically in
/home1/alekos/public_html/villamatella.gr/modules/mod_jflanguageselection/helper.php
on line
176
Strict Standards
: Non-static method TableJFLanguage::createByShortcode() should not be called statically in
/home1/alekos/public_html/villamatella.gr/modules/mod_jflanguageselection/helper.php
on line
177
Strict Standards
: Non-static method JFactory::getDBO() should not be called statically in
/home1/alekos/public_html/villamatella.gr/administrator/components/com_joomfish/tables/JFLanguage.php
on line
335
Strict Standards
: Non-static method JLoader::import() should not be called statically in
/home1/alekos/public_html/villamatella.gr/libraries/loader.php
on line
186
Deprecated
: Non-static method JPath::find() should not be called statically, assuming $this from incompatible context in
/home1/alekos/public_html/villamatella.gr/administrator/components/com_joomfish/tables/JFLanguage.php
on line
194
Deprecated
: Non-static method JFactory::getDBO() should not be called statically, assuming $this from incompatible context in
/home1/alekos/public_html/villamatella.gr/libraries/joomla/database/table.php
on line
112
Deprecated
: Non-static method JFactory::getDBO() should not be called statically, assuming $this from incompatible context in
/home1/alekos/public_html/villamatella.gr/libraries/joomla/database/table.php
on line
112
Deprecated
: Non-static method JRegistryFormat::getInstance() should not be called statically, assuming $this from incompatible context in
/home1/alekos/public_html/villamatella.gr/libraries/joomla/registry/registry.php
on line
373
Deprecated
: Non-static method JFilterInput::clean() should not be called statically, assuming $this from incompatible context in
/home1/alekos/public_html/villamatella.gr/libraries/joomla/registry/format.php
on line
45
Deprecated
: Non-static method JRegistryFormat::getInstance() should not be called statically, assuming $this from incompatible context in
/home1/alekos/public_html/villamatella.gr/libraries/joomla/registry/registry.php
on line
448
Deprecated
: Non-static method JFilterInput::clean() should not be called statically, assuming $this from incompatible context in
/home1/alekos/public_html/villamatella.gr/libraries/joomla/registry/format.php
on line
45
Deprecated
: Non-static method JLanguage::getKnownLanguages() should not be called statically, assuming $this from incompatible context in
/home1/alekos/public_html/villamatella.gr/administrator/components/com_joomfish/tables/JFLanguage.php
on line
505
Deprecated
: Non-static method JLanguage::getLanguagePath() should not be called statically, assuming $this from incompatible context in
/home1/alekos/public_html/villamatella.gr/libraries/joomla/language/language.php
on line
653
Deprecated
: Non-static method JLanguage::_parseLanguageFiles() should not be called statically, assuming $this from incompatible context in
/home1/alekos/public_html/villamatella.gr/libraries/joomla/language/language.php
on line
654
Strict Standards
: Non-static method JLoader::import() should not be called statically in
/home1/alekos/public_html/villamatella.gr/libraries/loader.php
on line
186
Deprecated
: Non-static method JFolder::folders() should not be called statically, assuming $this from incompatible context in
/home1/alekos/public_html/villamatella.gr/libraries/joomla/language/language.php
on line
713
Deprecated
: Non-static method JPath::clean() should not be called statically, assuming $this from incompatible context in
/home1/alekos/public_html/villamatella.gr/libraries/joomla/filesystem/folder.php
on line
475
Deprecated
: Non-static method JLanguage::_parseXMLLanguageFiles() should not be called statically, assuming $this from incompatible context in
/home1/alekos/public_html/villamatella.gr/libraries/joomla/language/language.php
on line
715
Strict Standards
: Non-static method JLoader::import() should not be called statically in
/home1/alekos/public_html/villamatella.gr/libraries/loader.php
on line
186
Deprecated
: Non-static method JFolder::files() should not be called statically, assuming $this from incompatible context in
/home1/alekos/public_html/villamatella.gr/libraries/joomla/language/language.php
on line
738
Deprecated
: Non-static method JPath::clean() should not be called statically, assuming $this from incompatible context in
/home1/alekos/public_html/villamatella.gr/libraries/joomla/filesystem/folder.php
on line
414
Deprecated
: Non-static method JLanguage::_parseXMLLanguageFile() should not be called statically, assuming $this from incompatible context in
/home1/alekos/public_html/villamatella.gr/libraries/joomla/language/language.php
on line
741
Deprecated
: Non-static method JFactory::getXMLParser() should not be called statically, assuming $this from incompatible context in
/home1/alekos/public_html/villamatella.gr/libraries/joomla/language/language.php
on line
760
Strict Standards
: Non-static method JLoader::import() should not be called statically in
/home1/alekos/public_html/villamatella.gr/libraries/loader.php
on line
186
Deprecated
: Non-static method JLanguage::_parseXMLLanguageFile() should not be called statically, assuming $this from incompatible context in
/home1/alekos/public_html/villamatella.gr/libraries/joomla/language/language.php
on line
741
Deprecated
: Non-static method JFactory::getXMLParser() should not be called statically, assuming $this from incompatible context in
/home1/alekos/public_html/villamatella.gr/libraries/joomla/language/language.php
on line
760
Strict Standards
: Non-static method JLoader::import() should not be called statically in
/home1/alekos/public_html/villamatella.gr/libraries/loader.php
on line
186
Deprecated
: Non-static method JLanguage::_parseXMLLanguageFiles() should not be called statically, assuming $this from incompatible context in
/home1/alekos/public_html/villamatella.gr/libraries/joomla/language/language.php
on line
715
Strict Standards
: Non-static method JLoader::import() should not be called statically in
/home1/alekos/public_html/villamatella.gr/libraries/loader.php
on line
186
Deprecated
: Non-static method JFolder::files() should not be called statically, assuming $this from incompatible context in
/home1/alekos/public_html/villamatella.gr/libraries/joomla/language/language.php
on line
738
Deprecated
: Non-static method JPath::clean() should not be called statically, assuming $this from incompatible context in
/home1/alekos/public_html/villamatella.gr/libraries/joomla/filesystem/folder.php
on line
414
Deprecated
: Non-static method JLanguage::_parseXMLLanguageFile() should not be called statically, assuming $this from incompatible context in
/home1/alekos/public_html/villamatella.gr/libraries/joomla/language/language.php
on line
741
Deprecated
: Non-static method JFactory::getXMLParser() should not be called statically, assuming $this from incompatible context in
/home1/alekos/public_html/villamatella.gr/libraries/joomla/language/language.php
on line
760
Strict Standards
: Non-static method JLoader::import() should not be called statically in
/home1/alekos/public_html/villamatella.gr/libraries/loader.php
on line
186
Deprecated
: Non-static method JLanguage::_parseXMLLanguageFiles() should not be called statically, assuming $this from incompatible context in
/home1/alekos/public_html/villamatella.gr/libraries/joomla/language/language.php
on line
715
Strict Standards
: Non-static method JLoader::import() should not be called statically in
/home1/alekos/public_html/villamatella.gr/libraries/loader.php
on line
186
Deprecated
: Non-static method JFolder::files() should not be called statically, assuming $this from incompatible context in
/home1/alekos/public_html/villamatella.gr/libraries/joomla/language/language.php
on line
738
Deprecated
: Non-static method JPath::clean() should not be called statically, assuming $this from incompatible context in
/home1/alekos/public_html/villamatella.gr/libraries/joomla/filesystem/folder.php
on line
414
Deprecated
: Non-static method JLanguage::getInstance() should not be called statically, assuming $this from incompatible context in
/home1/alekos/public_html/villamatella.gr/administrator/components/com_joomfish/tables/JFLanguage.php
on line
507
Deprecated
: Non-static method JFactory::getXMLParser() should not be called statically, assuming $this from incompatible context in
/home1/alekos/public_html/villamatella.gr/libraries/joomla/language/language.php
on line
760
Strict Standards
: Non-static method JLoader::import() should not be called statically in
/home1/alekos/public_html/villamatella.gr/libraries/loader.php
on line
186
Deprecated
: Non-static method JRegistryFormat::getInstance() should not be called statically, assuming $this from incompatible context in
/home1/alekos/public_html/villamatella.gr/libraries/joomla/registry/registry.php
on line
373
Deprecated
: Non-static method JFilterInput::clean() should not be called statically, assuming $this from incompatible context in
/home1/alekos/public_html/villamatella.gr/libraries/joomla/registry/format.php
on line
45
Strict Standards
: Non-static method JSite::getMenu() should not be called statically in
/home1/alekos/public_html/villamatella.gr/modules/mod_jflanguageselection/helper.php
on line
181
Strict Standards
: Non-static method JApplication::getMenu() should not be called statically in
/home1/alekos/public_html/villamatella.gr/includes/application.php
on line
345
Strict Standards
: Non-static method JLoader::import() should not be called statically in
/home1/alekos/public_html/villamatella.gr/libraries/loader.php
on line
186
Strict Standards
: Non-static method JMenu::getInstance() should not be called statically in
/home1/alekos/public_html/villamatella.gr/libraries/joomla/application/application.php
on line
720
Strict Standards
: Non-static method JError::isError() should not be called statically in
/home1/alekos/public_html/villamatella.gr/libraries/joomla/application/application.php
on line
721
Strict Standards
: Non-static method JFactory::getDBO() should not be called statically in
/home1/alekos/public_html/villamatella.gr/modules/mod_jflanguageselection/helper.php
on line
259
Strict Standards
: Non-static method JFactory::getConfig() should not be called statically in
/home1/alekos/public_html/villamatella.gr/modules/mod_jflanguageselection/helper.php
on line
270
Deprecated
: Non-static method JFactory::getConfig() should not be called statically, assuming $this from incompatible context in
/home1/alekos/public_html/villamatella.gr/plugins/system/jfdatabase/intercept.jdatabasemysql.php
on line
172
Strict Standards
: Non-static method JLoader::import() should not be called statically in
/home1/alekos/public_html/villamatella.gr/libraries/loader.php
on line
186
Deprecated
: Non-static method JClientHelper::getCredentials() should not be called statically, assuming $this from incompatible context in
/home1/alekos/public_html/villamatella.gr/plugins/system/jfdatabase/intercept.jdatabasemysql.php
on line
175
Deprecated
: Non-static method JFolder::exists() should not be called statically, assuming $this from incompatible context in
/home1/alekos/public_html/villamatella.gr/plugins/system/jfdatabase/intercept.jdatabasemysql.php
on line
197
Deprecated
: Non-static method JPath::clean() should not be called statically, assuming $this from incompatible context in
/home1/alekos/public_html/villamatella.gr/libraries/joomla/filesystem/folder.php
on line
392
Deprecated
: Non-static method JFile::exists() should not be called statically, assuming $this from incompatible context in
/home1/alekos/public_html/villamatella.gr/plugins/system/jfdatabase/intercept.jdatabasemysql.php
on line
199
Deprecated
: Non-static method JPath::clean() should not be called statically, assuming $this from incompatible context in
/home1/alekos/public_html/villamatella.gr/libraries/joomla/filesystem/file.php
on line
375
Deprecated
: Non-static method JFile::write() should not be called statically, assuming $this from incompatible context in
/home1/alekos/public_html/villamatella.gr/plugins/system/jfdatabase/intercept.jdatabasemysql.php
on line
98
Strict Standards
: Non-static method JLoader::import() should not be called statically in
/home1/alekos/public_html/villamatella.gr/libraries/loader.php
on line
186
Deprecated
: Non-static method JClientHelper::getCredentials() should not be called statically, assuming $this from incompatible context in
/home1/alekos/public_html/villamatella.gr/libraries/joomla/filesystem/file.php
on line
288
Strict Standards
: Non-static method JLoader::import() should not be called statically in
/home1/alekos/public_html/villamatella.gr/libraries/loader.php
on line
186
Deprecated
: Non-static method JFTP::getInstance() should not be called statically, assuming $this from incompatible context in
/home1/alekos/public_html/villamatella.gr/libraries/joomla/filesystem/file.php
on line
299
Deprecated
: Non-static method JPath::clean() should not be called statically, assuming $this from incompatible context in
/home1/alekos/public_html/villamatella.gr/libraries/joomla/filesystem/file.php
on line
302
Deprecated
: Non-static method JFolder::files() should not be called statically, assuming $this from incompatible context in
/home1/alekos/public_html/villamatella.gr/plugins/system/jfdatabase/intercept.jdatabasemysql.php
on line
112
Deprecated
: Non-static method JPath::clean() should not be called statically, assuming $this from incompatible context in
/home1/alekos/public_html/villamatella.gr/libraries/joomla/filesystem/folder.php
on line
414
Deprecated
: Non-static method JFile::exists() should not be called statically, assuming $this from incompatible context in
/home1/alekos/public_html/villamatella.gr/plugins/system/jfdatabase/intercept.jdatabasemysql.php
on line
116
Deprecated
: Non-static method JPath::clean() should not be called statically, assuming $this from incompatible context in
/home1/alekos/public_html/villamatella.gr/libraries/joomla/filesystem/file.php
on line
375
Deprecated
: Non-static method JFile::exists() should not be called statically, assuming $this from incompatible context in
/home1/alekos/public_html/villamatella.gr/plugins/system/jfdatabase/intercept.jdatabasemysql.php
on line
116
Deprecated
: Non-static method JPath::clean() should not be called statically, assuming $this from incompatible context in
/home1/alekos/public_html/villamatella.gr/libraries/joomla/filesystem/file.php
on line
375
Deprecated
: Non-static method JFile::exists() should not be called statically, assuming $this from incompatible context in
/home1/alekos/public_html/villamatella.gr/plugins/system/jfdatabase/intercept.jdatabasemysql.php
on line
116
Deprecated
: Non-static method JPath::clean() should not be called statically, assuming $this from incompatible context in
/home1/alekos/public_html/villamatella.gr/libraries/joomla/filesystem/file.php
on line
375
Deprecated
: Non-static method JFile::exists() should not be called statically, assuming $this from incompatible context in
/home1/alekos/public_html/villamatella.gr/plugins/system/jfdatabase/intercept.jdatabasemysql.php
on line
116
Deprecated
: Non-static method JPath::clean() should not be called statically, assuming $this from incompatible context in
/home1/alekos/public_html/villamatella.gr/libraries/joomla/filesystem/file.php
on line
375
Deprecated
: Non-static method JFile::exists() should not be called statically, assuming $this from incompatible context in
/home1/alekos/public_html/villamatella.gr/plugins/system/jfdatabase/intercept.jdatabasemysql.php
on line
116
Deprecated
: Non-static method JPath::clean() should not be called statically, assuming $this from incompatible context in
/home1/alekos/public_html/villamatella.gr/libraries/joomla/filesystem/file.php
on line
375
Deprecated
: Non-static method JoomFish::translateList() should not be called statically, assuming $this from incompatible context in
/home1/alekos/public_html/villamatella.gr/plugins/system/jfdatabase/jfdatabase_inherit.php
on line
381
Deprecated
: Non-static method JFactory::getConfig() should not be called statically, assuming $this from incompatible context in
/home1/alekos/public_html/villamatella.gr/components/com_joomfish/helpers/joomfish.class.php
on line
81
Deprecated
: Non-static method JFactory::getDBO() should not be called statically, assuming $this from incompatible context in
/home1/alekos/public_html/villamatella.gr/components/com_joomfish/helpers/joomfish.class.php
on line
85
Deprecated
: Non-static method JoomFish::translateListWithIDs() should not be called statically, assuming $this from incompatible context in
/home1/alekos/public_html/villamatella.gr/components/com_joomfish/helpers/joomfish.class.php
on line
142
Deprecated
: Non-static method JFactory::getConfig() should not be called statically, assuming $this from incompatible context in
/home1/alekos/public_html/villamatella.gr/components/com_joomfish/helpers/joomfish.class.php
on line
161
Deprecated
: Non-static method JFactory::getConfig() should not be called statically, assuming $this from incompatible context in
/home1/alekos/public_html/villamatella.gr/components/com_joomfish/helpers/joomfish.class.php
on line
164
Deprecated
: Non-static method JFactory::getDBO() should not be called statically, assuming $this from incompatible context in
/home1/alekos/public_html/villamatella.gr/components/com_joomfish/helpers/joomfish.class.php
on line
168
Deprecated
: Non-static method JDispatcher::getInstance() should not be called statically, assuming $this from incompatible context in
/home1/alekos/public_html/villamatella.gr/components/com_joomfish/helpers/joomfish.class.php
on line
171
Deprecated
: Non-static method JPluginHelper::importPlugin() should not be called statically, assuming $this from incompatible context in
/home1/alekos/public_html/villamatella.gr/components/com_joomfish/helpers/joomfish.class.php
on line
172
Deprecated
: Non-static method JPluginHelper::_load() should not be called statically, assuming $this from incompatible context in
/home1/alekos/public_html/villamatella.gr/libraries/joomla/plugin/helper.php
on line
92
Deprecated
: Non-static method JPluginHelper::_import() should not be called statically, assuming $this from incompatible context in
/home1/alekos/public_html/villamatella.gr/libraries/joomla/plugin/helper.php
on line
97
Deprecated
: Non-static method JFactory::getUser() should not be called statically, assuming $this from incompatible context in
/home1/alekos/public_html/villamatella.gr/components/com_joomfish/helpers/joomfish.class.php
on line
237
Strict Standards
: Non-static method JLoader::import() should not be called statically in
/home1/alekos/public_html/villamatella.gr/libraries/loader.php
on line
186
Deprecated
: Non-static method JFactory::getSession() should not be called statically, assuming $this from incompatible context in
/home1/alekos/public_html/villamatella.gr/libraries/joomla/factory.php
on line
163
Deprecated
: Non-static method JFactory::getConfig() should not be called statically, assuming $this from incompatible context in
/home1/alekos/public_html/villamatella.gr/plugins/joomfish/missing_translation.php
on line
57
Deprecated
: Non-static method JFactory::getDBO() should not be called statically, assuming $this from incompatible context in
/home1/alekos/public_html/villamatella.gr/plugins/joomfish/missing_translation.php
on line
60
Deprecated
: Non-static method JFactory::getConfig() should not be called statically, assuming $this from incompatible context in
/home1/alekos/public_html/villamatella.gr/plugins/joomfish/missing_translation.php
on line
57
Deprecated
: Non-static method JFactory::getDBO() should not be called statically, assuming $this from incompatible context in
/home1/alekos/public_html/villamatella.gr/plugins/joomfish/missing_translation.php
on line
60
Deprecated
: Non-static method JFactory::getConfig() should not be called statically, assuming $this from incompatible context in
/home1/alekos/public_html/villamatella.gr/plugins/joomfish/missing_translation.php
on line
57
Deprecated
: Non-static method JFactory::getDBO() should not be called statically, assuming $this from incompatible context in
/home1/alekos/public_html/villamatella.gr/plugins/joomfish/missing_translation.php
on line
60
Deprecated
: Non-static method JFactory::getConfig() should not be called statically, assuming $this from incompatible context in
/home1/alekos/public_html/villamatella.gr/plugins/joomfish/missing_translation.php
on line
57
Deprecated
: Non-static method JFactory::getDBO() should not be called statically, assuming $this from incompatible context in
/home1/alekos/public_html/villamatella.gr/plugins/joomfish/missing_translation.php
on line
60
Deprecated
: Non-static method JFactory::getConfig() should not be called statically, assuming $this from incompatible context in
/home1/alekos/public_html/villamatella.gr/plugins/joomfish/missing_translation.php
on line
57
Deprecated
: Non-static method JFactory::getDBO() should not be called statically, assuming $this from incompatible context in
/home1/alekos/public_html/villamatella.gr/plugins/joomfish/missing_translation.php
on line
60
Deprecated
: Non-static method JFactory::getConfig() should not be called statically, assuming $this from incompatible context in
/home1/alekos/public_html/villamatella.gr/plugins/joomfish/missing_translation.php
on line
57
Deprecated
: Non-static method JFactory::getDBO() should not be called statically, assuming $this from incompatible context in
/home1/alekos/public_html/villamatella.gr/plugins/joomfish/missing_translation.php
on line
60
Deprecated
: Non-static method JFactory::getConfig() should not be called statically, assuming $this from incompatible context in
/home1/alekos/public_html/villamatella.gr/plugins/joomfish/missing_translation.php
on line
57
Deprecated
: Non-static method JFactory::getDBO() should not be called statically, assuming $this from incompatible context in
/home1/alekos/public_html/villamatella.gr/plugins/joomfish/missing_translation.php
on line
60
Deprecated
: Non-static method JFactory::getConfig() should not be called statically, assuming $this from incompatible context in
/home1/alekos/public_html/villamatella.gr/plugins/joomfish/missing_translation.php
on line
57
Deprecated
: Non-static method JFactory::getDBO() should not be called statically, assuming $this from incompatible context in
/home1/alekos/public_html/villamatella.gr/plugins/joomfish/missing_translation.php
on line
60
Deprecated
: Non-static method JFactory::getConfig() should not be called statically, assuming $this from incompatible context in
/home1/alekos/public_html/villamatella.gr/plugins/joomfish/missing_translation.php
on line
57
Deprecated
: Non-static method JFactory::getDBO() should not be called statically, assuming $this from incompatible context in
/home1/alekos/public_html/villamatella.gr/plugins/joomfish/missing_translation.php
on line
60
Deprecated
: Non-static method JFactory::getConfig() should not be called statically, assuming $this from incompatible context in
/home1/alekos/public_html/villamatella.gr/plugins/joomfish/missing_translation.php
on line
57
Deprecated
: Non-static method JFactory::getDBO() should not be called statically, assuming $this from incompatible context in
/home1/alekos/public_html/villamatella.gr/plugins/joomfish/missing_translation.php
on line
60
Deprecated
: Non-static method JFactory::getConfig() should not be called statically, assuming $this from incompatible context in
/home1/alekos/public_html/villamatella.gr/plugins/joomfish/missing_translation.php
on line
57
Deprecated
: Non-static method JFactory::getDBO() should not be called statically, assuming $this from incompatible context in
/home1/alekos/public_html/villamatella.gr/plugins/joomfish/missing_translation.php
on line
60
Deprecated
: Non-static method JFactory::getConfig() should not be called statically, assuming $this from incompatible context in
/home1/alekos/public_html/villamatella.gr/plugins/joomfish/missing_translation.php
on line
57
Deprecated
: Non-static method JFactory::getDBO() should not be called statically, assuming $this from incompatible context in
/home1/alekos/public_html/villamatella.gr/plugins/joomfish/missing_translation.php
on line
60
Deprecated
: Non-static method JFactory::getConfig() should not be called statically, assuming $this from incompatible context in
/home1/alekos/public_html/villamatella.gr/plugins/joomfish/missing_translation.php
on line
57
Deprecated
: Non-static method JFactory::getDBO() should not be called statically, assuming $this from incompatible context in
/home1/alekos/public_html/villamatella.gr/plugins/joomfish/missing_translation.php
on line
60
Deprecated
: Non-static method JFactory::getConfig() should not be called statically, assuming $this from incompatible context in
/home1/alekos/public_html/villamatella.gr/plugins/joomfish/missing_translation.php
on line
57
Deprecated
: Non-static method JFactory::getDBO() should not be called statically, assuming $this from incompatible context in
/home1/alekos/public_html/villamatella.gr/plugins/joomfish/missing_translation.php
on line
60
Deprecated
: Non-static method JFactory::getConfig() should not be called statically, assuming $this from incompatible context in
/home1/alekos/public_html/villamatella.gr/plugins/joomfish/missing_translation.php
on line
57
Deprecated
: Non-static method JFactory::getDBO() should not be called statically, assuming $this from incompatible context in
/home1/alekos/public_html/villamatella.gr/plugins/joomfish/missing_translation.php
on line
60
Deprecated
: Non-static method JFactory::getConfig() should not be called statically, assuming $this from incompatible context in
/home1/alekos/public_html/villamatella.gr/plugins/joomfish/missing_translation.php
on line
57
Deprecated
: Non-static method JFactory::getDBO() should not be called statically, assuming $this from incompatible context in
/home1/alekos/public_html/villamatella.gr/plugins/joomfish/missing_translation.php
on line
60
Deprecated
: Non-static method JFactory::getConfig() should not be called statically, assuming $this from incompatible context in
/home1/alekos/public_html/villamatella.gr/plugins/joomfish/missing_translation.php
on line
57
Deprecated
: Non-static method JFactory::getDBO() should not be called statically, assuming $this from incompatible context in
/home1/alekos/public_html/villamatella.gr/plugins/joomfish/missing_translation.php
on line
60
Deprecated
: Non-static method JFactory::getConfig() should not be called statically, assuming $this from incompatible context in
/home1/alekos/public_html/villamatella.gr/plugins/joomfish/missing_translation.php
on line
57
Deprecated
: Non-static method JFactory::getDBO() should not be called statically, assuming $this from incompatible context in
/home1/alekos/public_html/villamatella.gr/plugins/joomfish/missing_translation.php
on line
60
Deprecated
: Non-static method JFactory::getConfig() should not be called statically, assuming $this from incompatible context in
/home1/alekos/public_html/villamatella.gr/plugins/joomfish/missing_translation.php
on line
57
Deprecated
: Non-static method JFactory::getDBO() should not be called statically, assuming $this from incompatible context in
/home1/alekos/public_html/villamatella.gr/plugins/joomfish/missing_translation.php
on line
60
Deprecated
: Non-static method JFactory::getConfig() should not be called statically, assuming $this from incompatible context in
/home1/alekos/public_html/villamatella.gr/plugins/joomfish/missing_translation.php
on line
57
Deprecated
: Non-static method JFactory::getDBO() should not be called statically, assuming $this from incompatible context in
/home1/alekos/public_html/villamatella.gr/plugins/joomfish/missing_translation.php
on line
60
Deprecated
: Non-static method JFactory::getConfig() should not be called statically, assuming $this from incompatible context in
/home1/alekos/public_html/villamatella.gr/plugins/joomfish/missing_translation.php
on line
57
Deprecated
: Non-static method JFactory::getDBO() should not be called statically, assuming $this from incompatible context in
/home1/alekos/public_html/villamatella.gr/plugins/joomfish/missing_translation.php
on line
60
Deprecated
: Non-static method JFactory::getConfig() should not be called statically, assuming $this from incompatible context in
/home1/alekos/public_html/villamatella.gr/plugins/joomfish/missing_translation.php
on line
57
Deprecated
: Non-static method JFactory::getDBO() should not be called statically, assuming $this from incompatible context in
/home1/alekos/public_html/villamatella.gr/plugins/joomfish/missing_translation.php
on line
60
Deprecated
: Non-static method JFactory::getConfig() should not be called statically, assuming $this from incompatible context in
/home1/alekos/public_html/villamatella.gr/plugins/joomfish/missing_translation.php
on line
57
Deprecated
: Non-static method JFactory::getDBO() should not be called statically, assuming $this from incompatible context in
/home1/alekos/public_html/villamatella.gr/plugins/joomfish/missing_translation.php
on line
60
Deprecated
: Non-static method JFactory::getConfig() should not be called statically, assuming $this from incompatible context in
/home1/alekos/public_html/villamatella.gr/plugins/joomfish/missing_translation.php
on line
57
Deprecated
: Non-static method JFactory::getDBO() should not be called statically, assuming $this from incompatible context in
/home1/alekos/public_html/villamatella.gr/plugins/joomfish/missing_translation.php
on line
60
Strict Standards
: Non-static method JSite::getMenu() should not be called statically in
/home1/alekos/public_html/villamatella.gr/modules/mod_jflanguageselection/helper.php
on line
278
Strict Standards
: Non-static method JApplication::getMenu() should not be called statically in
/home1/alekos/public_html/villamatella.gr/includes/application.php
on line
345
Strict Standards
: Non-static method JLoader::import() should not be called statically in
/home1/alekos/public_html/villamatella.gr/libraries/loader.php
on line
186
Strict Standards
: Non-static method JMenu::getInstance() should not be called statically in
/home1/alekos/public_html/villamatella.gr/libraries/joomla/application/application.php
on line
720
Strict Standards
: Non-static method JError::isError() should not be called statically in
/home1/alekos/public_html/villamatella.gr/libraries/joomla/application/application.php
on line
721
Strict Standards
: Non-static method JoomFish::translateList() should not be called statically in
/home1/alekos/public_html/villamatella.gr/modules/mod_jflanguageselection/helper.php
on line
304
Strict Standards
: Non-static method JFactory::getConfig() should not be called statically in
/home1/alekos/public_html/villamatella.gr/components/com_joomfish/helpers/joomfish.class.php
on line
81
Strict Standards
: Non-static method JFactory::getDBO() should not be called statically in
/home1/alekos/public_html/villamatella.gr/components/com_joomfish/helpers/joomfish.class.php
on line
85
Strict Standards
: Non-static method JoomFish::translateListWithIDs() should not be called statically in
/home1/alekos/public_html/villamatella.gr/components/com_joomfish/helpers/joomfish.class.php
on line
142
Strict Standards
: Non-static method JFactory::getConfig() should not be called statically in
/home1/alekos/public_html/villamatella.gr/components/com_joomfish/helpers/joomfish.class.php
on line
161
Strict Standards
: Non-static method JFactory::getConfig() should not be called statically in
/home1/alekos/public_html/villamatella.gr/components/com_joomfish/helpers/joomfish.class.php
on line
164
Strict Standards
: Non-static method JFactory::getDBO() should not be called statically in
/home1/alekos/public_html/villamatella.gr/components/com_joomfish/helpers/joomfish.class.php
on line
168
Strict Standards
: Non-static method JDispatcher::getInstance() should not be called statically in
/home1/alekos/public_html/villamatella.gr/components/com_joomfish/helpers/joomfish.class.php
on line
171
Strict Standards
: Non-static method JPluginHelper::importPlugin() should not be called statically in
/home1/alekos/public_html/villamatella.gr/components/com_joomfish/helpers/joomfish.class.php
on line
172
Strict Standards
: Non-static method JPluginHelper::_load() should not be called statically in
/home1/alekos/public_html/villamatella.gr/libraries/joomla/plugin/helper.php
on line
92
Strict Standards
: Non-static method JPluginHelper::_import() should not be called statically in
/home1/alekos/public_html/villamatella.gr/libraries/joomla/plugin/helper.php
on line
97
Strict Standards
: Non-static method JFactory::getUser() should not be called statically in
/home1/alekos/public_html/villamatella.gr/components/com_joomfish/helpers/joomfish.class.php
on line
237
Strict Standards
: Non-static method JLoader::import() should not be called statically in
/home1/alekos/public_html/villamatella.gr/libraries/loader.php
on line
186
Strict Standards
: Non-static method JFactory::getSession() should not be called statically in
/home1/alekos/public_html/villamatella.gr/libraries/joomla/factory.php
on line
163
Strict Standards
: Non-static method JFactory::getConfig() should not be called statically in
/home1/alekos/public_html/villamatella.gr/modules/mod_jflanguageselection/helper.php
on line
211
Strict Standards
: Non-static method JFactory::getConfig() should not be called statically in
/home1/alekos/public_html/villamatella.gr/modules/mod_jflanguageselection/helper.php
on line
232
Strict Standards
: Non-static method JRoute::_() should not be called statically in
/home1/alekos/public_html/villamatella.gr/modules/mod_jflanguageselection/helper.php
on line
235
Strict Standards
: Non-static method JFactory::getApplication() should not be called statically in
/home1/alekos/public_html/villamatella.gr/libraries/joomla/methods.php
on line
41
Deprecated
: Non-static method JFactory::getConfig() should not be called statically, assuming $this from incompatible context in
/home1/alekos/public_html/villamatella.gr/includes/application.php
on line
372
Strict Standards
: Non-static method JLoader::import() should not be called statically in
/home1/alekos/public_html/villamatella.gr/libraries/loader.php
on line
186
Deprecated
: Non-static method JRouter::getInstance() should not be called statically, assuming $this from incompatible context in
/home1/alekos/public_html/villamatella.gr/libraries/joomla/application/application.php
on line
674
Deprecated
: Non-static method JError::isError() should not be called statically, assuming $this from incompatible context in
/home1/alekos/public_html/villamatella.gr/libraries/joomla/application/application.php
on line
675
Deprecated
: Non-static method JSite::getMenu() should not be called statically, assuming $this from incompatible context in
/home1/alekos/public_html/villamatella.gr/includes/router.php
on line
419
Deprecated
: Non-static method JApplication::getMenu() should not be called statically, assuming $this from incompatible context in
/home1/alekos/public_html/villamatella.gr/includes/application.php
on line
345
Strict Standards
: Non-static method JLoader::import() should not be called statically in
/home1/alekos/public_html/villamatella.gr/libraries/loader.php
on line
186
Deprecated
: Non-static method JMenu::getInstance() should not be called statically, assuming $this from incompatible context in
/home1/alekos/public_html/villamatella.gr/libraries/joomla/application/application.php
on line
720
Deprecated
: Non-static method JError::isError() should not be called statically, assuming $this from incompatible context in
/home1/alekos/public_html/villamatella.gr/libraries/joomla/application/application.php
on line
721
Strict Standards
: Non-static method JFactory::getConfig() should not be called statically in
/home1/alekos/public_html/villamatella.gr/plugins/system/jfrouter.php
on line
532
Strict Standards
: Non-static method JFactory::getConfig() should not be called statically in
/home1/alekos/public_html/villamatella.gr/plugins/system/jfrouter.php
on line
542
Strict Standards
: Non-static method plgSystemJFRouter::procesCustomBuildRule() should not be called statically in
/home1/alekos/public_html/villamatella.gr/plugins/system/jfrouter.php
on line
617
Deprecated
: Non-static method JFactory::getApplication() should not be called statically, assuming $this from incompatible context in
/home1/alekos/public_html/villamatella.gr/includes/router.php
on line
401
Deprecated
: Non-static method JSite::getMenu() should not be called statically, assuming $this from incompatible context in
/home1/alekos/public_html/villamatella.gr/includes/router.php
on line
295
Deprecated
: Non-static method JApplication::getMenu() should not be called statically, assuming $this from incompatible context in
/home1/alekos/public_html/villamatella.gr/includes/application.php
on line
345
Strict Standards
: Non-static method JLoader::import() should not be called statically in
/home1/alekos/public_html/villamatella.gr/libraries/loader.php
on line
186
Deprecated
: Non-static method JMenu::getInstance() should not be called statically, assuming $this from incompatible context in
/home1/alekos/public_html/villamatella.gr/libraries/joomla/application/application.php
on line
720
Deprecated
: Non-static method JError::isError() should not be called statically, assuming $this from incompatible context in
/home1/alekos/public_html/villamatella.gr/libraries/joomla/application/application.php
on line
721
Strict Standards
: Non-static method JSite::getMenu() should not be called statically in
/home1/alekos/public_html/villamatella.gr/components/com_content/router.php
on line
19
Strict Standards
: Non-static method JApplication::getMenu() should not be called statically in
/home1/alekos/public_html/villamatella.gr/includes/application.php
on line
345
Strict Standards
: Non-static method JLoader::import() should not be called statically in
/home1/alekos/public_html/villamatella.gr/libraries/loader.php
on line
186
Strict Standards
: Non-static method JMenu::getInstance() should not be called statically in
/home1/alekos/public_html/villamatella.gr/libraries/joomla/application/application.php
on line
720
Strict Standards
: Non-static method JError::isError() should not be called statically in
/home1/alekos/public_html/villamatella.gr/libraries/joomla/application/application.php
on line
721
Deprecated
: Non-static method JFactory::getApplication() should not be called statically, assuming $this from incompatible context in
/home1/alekos/public_html/villamatella.gr/includes/router.php
on line
90
Deprecated
: Non-static method JFactory::getConfig() should not be called statically, assuming $this from incompatible context in
/home1/alekos/public_html/villamatella.gr/libraries/joomla/application/application.php
on line
394
Deprecated
: Non-static method JFactory::getConfig() should not be called statically, assuming $this from incompatible context in
/home1/alekos/public_html/villamatella.gr/libraries/joomla/application/application.php
on line
394
Deprecated
: Non-static method JURI::base() should not be called statically, assuming $this from incompatible context in
/home1/alekos/public_html/villamatella.gr/includes/router.php
on line
109
Strict Standards
: Non-static method JURI::getInstance() should not be called statically in
/home1/alekos/public_html/villamatella.gr/libraries/joomla/methods.php
on line
70
Strict Standards
: Non-static method JURI::getInstance() should not be called statically in
/home1/alekos/public_html/villamatella.gr/modules/mod_jflanguageselection/helper.php
on line
242
Strict Standards
: Non-static method JComponentHelper::getParams() should not be called statically in
/home1/alekos/public_html/villamatella.gr/administrator/components/com_joomfish/helpers/extensionHelper.php
on line
84
Strict Standards
: Non-static method JLoader::import() should not be called statically in
/home1/alekos/public_html/villamatella.gr/libraries/loader.php
on line
186
Strict Standards
: Non-static method JFile::exists() should not be called statically in
/home1/alekos/public_html/villamatella.gr/administrator/components/com_joomfish/helpers/extensionHelper.php
on line
113
Strict Standards
: Non-static method JPath::clean() should not be called statically in
/home1/alekos/public_html/villamatella.gr/libraries/joomla/filesystem/file.php
on line
375
Strict Standards
: Non-static method JFile::exists() should not be called statically in
/home1/alekos/public_html/villamatella.gr/administrator/components/com_joomfish/helpers/extensionHelper.php
on line
115
Strict Standards
: Non-static method JPath::clean() should not be called statically in
/home1/alekos/public_html/villamatella.gr/libraries/joomla/filesystem/file.php
on line
375
Deprecated
: Non-static method JURI::base() should not be called statically, assuming $this from incompatible context in
/home1/alekos/public_html/villamatella.gr/modules/mod_jflanguageselection/tmpl/rawimages.php
on line
59
Strict Standards
: Non-static method JFactory::getDBO() should not be called statically in
/home1/alekos/public_html/villamatella.gr/modules/mod_jflanguageselection/helper.php
on line
109
Strict Standards
: Non-static method JURI::getInstance() should not be called statically in
/home1/alekos/public_html/villamatella.gr/modules/mod_jflanguageselection/helper.php
on line
112
Strict Standards
: Non-static method JFactory::getApplication() should not be called statically in
/home1/alekos/public_html/villamatella.gr/modules/mod_jflanguageselection/helper.php
on line
116
Deprecated
: Non-static method JFactory::getConfig() should not be called statically, assuming $this from incompatible context in
/home1/alekos/public_html/villamatella.gr/includes/application.php
on line
372
Strict Standards
: Non-static method JLoader::import() should not be called statically in
/home1/alekos/public_html/villamatella.gr/libraries/loader.php
on line
186
Deprecated
: Non-static method JRouter::getInstance() should not be called statically, assuming $this from incompatible context in
/home1/alekos/public_html/villamatella.gr/libraries/joomla/application/application.php
on line
674
Deprecated
: Non-static method JError::isError() should not be called statically, assuming $this from incompatible context in
/home1/alekos/public_html/villamatella.gr/libraries/joomla/application/application.php
on line
675
Strict Standards
: Non-static method JFilterInput::getInstance() should not be called statically in
/home1/alekos/public_html/villamatella.gr/modules/mod_jflanguageselection/helper.php
on line
125
Deprecated
: preg_replace(): The /e modifier is deprecated, use preg_replace_callback instead in
/home1/alekos/public_html/villamatella.gr/libraries/joomla/filter/filterinput.php
on line
512
Deprecated
: preg_replace(): The /e modifier is deprecated, use preg_replace_callback instead in
/home1/alekos/public_html/villamatella.gr/libraries/joomla/filter/filterinput.php
on line
514
Deprecated
: preg_replace(): The /e modifier is deprecated, use preg_replace_callback instead in
/home1/alekos/public_html/villamatella.gr/libraries/joomla/filter/filterinput.php
on line
512
Deprecated
: preg_replace(): The /e modifier is deprecated, use preg_replace_callback instead in
/home1/alekos/public_html/villamatella.gr/libraries/joomla/filter/filterinput.php
on line
514
Deprecated
: preg_replace(): The /e modifier is deprecated, use preg_replace_callback instead in
/home1/alekos/public_html/villamatella.gr/libraries/joomla/filter/filterinput.php
on line
512
Deprecated
: preg_replace(): The /e modifier is deprecated, use preg_replace_callback instead in
/home1/alekos/public_html/villamatella.gr/libraries/joomla/filter/filterinput.php
on line
514
Deprecated
: preg_replace(): The /e modifier is deprecated, use preg_replace_callback instead in
/home1/alekos/public_html/villamatella.gr/libraries/joomla/filter/filterinput.php
on line
512
Deprecated
: preg_replace(): The /e modifier is deprecated, use preg_replace_callback instead in
/home1/alekos/public_html/villamatella.gr/libraries/joomla/filter/filterinput.php
on line
514
Deprecated
: preg_replace(): The /e modifier is deprecated, use preg_replace_callback instead in
/home1/alekos/public_html/villamatella.gr/libraries/joomla/filter/filterinput.php
on line
512
Deprecated
: preg_replace(): The /e modifier is deprecated, use preg_replace_callback instead in
/home1/alekos/public_html/villamatella.gr/libraries/joomla/filter/filterinput.php
on line
514
Deprecated
: preg_replace(): The /e modifier is deprecated, use preg_replace_callback instead in
/home1/alekos/public_html/villamatella.gr/libraries/joomla/filter/filterinput.php
on line
512
Deprecated
: preg_replace(): The /e modifier is deprecated, use preg_replace_callback instead in
/home1/alekos/public_html/villamatella.gr/libraries/joomla/filter/filterinput.php
on line
514
Strict Standards
: Non-static method JComponentHelper::getParams() should not be called statically in
/home1/alekos/public_html/villamatella.gr/modules/mod_jflanguageselection/helper.php
on line
151
Strict Standards
: Non-static method JFactory::getConfig() should not be called statically in
/home1/alekos/public_html/villamatella.gr/modules/mod_jflanguageselection/helper.php
on line
167
Strict Standards
: Non-static method JFactory::getConfig() should not be called statically in
/home1/alekos/public_html/villamatella.gr/modules/mod_jflanguageselection/helper.php
on line
211
Strict Standards
: Non-static method JFactory::getConfig() should not be called statically in
/home1/alekos/public_html/villamatella.gr/modules/mod_jflanguageselection/helper.php
on line
232
Strict Standards
: Non-static method JRoute::_() should not be called statically in
/home1/alekos/public_html/villamatella.gr/modules/mod_jflanguageselection/helper.php
on line
235
Strict Standards
: Non-static method JFactory::getApplication() should not be called statically in
/home1/alekos/public_html/villamatella.gr/libraries/joomla/methods.php
on line
41
Deprecated
: Non-static method JFactory::getConfig() should not be called statically, assuming $this from incompatible context in
/home1/alekos/public_html/villamatella.gr/includes/application.php
on line
372
Strict Standards
: Non-static method JLoader::import() should not be called statically in
/home1/alekos/public_html/villamatella.gr/libraries/loader.php
on line
186
Deprecated
: Non-static method JRouter::getInstance() should not be called statically, assuming $this from incompatible context in
/home1/alekos/public_html/villamatella.gr/libraries/joomla/application/application.php
on line
674
Deprecated
: Non-static method JError::isError() should not be called statically, assuming $this from incompatible context in
/home1/alekos/public_html/villamatella.gr/libraries/joomla/application/application.php
on line
675
Deprecated
: Non-static method JSite::getMenu() should not be called statically, assuming $this from incompatible context in
/home1/alekos/public_html/villamatella.gr/includes/router.php
on line
419
Deprecated
: Non-static method JApplication::getMenu() should not be called statically, assuming $this from incompatible context in
/home1/alekos/public_html/villamatella.gr/includes/application.php
on line
345
Strict Standards
: Non-static method JLoader::import() should not be called statically in
/home1/alekos/public_html/villamatella.gr/libraries/loader.php
on line
186
Deprecated
: Non-static method JMenu::getInstance() should not be called statically, assuming $this from incompatible context in
/home1/alekos/public_html/villamatella.gr/libraries/joomla/application/application.php
on line
720
Deprecated
: Non-static method JError::isError() should not be called statically, assuming $this from incompatible context in
/home1/alekos/public_html/villamatella.gr/libraries/joomla/application/application.php
on line
721
Strict Standards
: Non-static method JFactory::getConfig() should not be called statically in
/home1/alekos/public_html/villamatella.gr/plugins/system/jfrouter.php
on line
532
Strict Standards
: Non-static method JFactory::getConfig() should not be called statically in
/home1/alekos/public_html/villamatella.gr/plugins/system/jfrouter.php
on line
542
Strict Standards
: Non-static method plgSystemJFRouter::procesCustomBuildRule() should not be called statically in
/home1/alekos/public_html/villamatella.gr/plugins/system/jfrouter.php
on line
617
Deprecated
: Non-static method JFactory::getApplication() should not be called statically, assuming $this from incompatible context in
/home1/alekos/public_html/villamatella.gr/includes/router.php
on line
401
Deprecated
: Non-static method JSite::getMenu() should not be called statically, assuming $this from incompatible context in
/home1/alekos/public_html/villamatella.gr/includes/router.php
on line
295
Deprecated
: Non-static method JApplication::getMenu() should not be called statically, assuming $this from incompatible context in
/home1/alekos/public_html/villamatella.gr/includes/application.php
on line
345
Strict Standards
: Non-static method JLoader::import() should not be called statically in
/home1/alekos/public_html/villamatella.gr/libraries/loader.php
on line
186
Deprecated
: Non-static method JMenu::getInstance() should not be called statically, assuming $this from incompatible context in
/home1/alekos/public_html/villamatella.gr/libraries/joomla/application/application.php
on line
720
Deprecated
: Non-static method JError::isError() should not be called statically, assuming $this from incompatible context in
/home1/alekos/public_html/villamatella.gr/libraries/joomla/application/application.php
on line
721
Strict Standards
: Non-static method JSite::getMenu() should not be called statically in
/home1/alekos/public_html/villamatella.gr/components/com_content/router.php
on line
19
Strict Standards
: Non-static method JApplication::getMenu() should not be called statically in
/home1/alekos/public_html/villamatella.gr/includes/application.php
on line
345
Strict Standards
: Non-static method JLoader::import() should not be called statically in
/home1/alekos/public_html/villamatella.gr/libraries/loader.php
on line
186
Strict Standards
: Non-static method JMenu::getInstance() should not be called statically in
/home1/alekos/public_html/villamatella.gr/libraries/joomla/application/application.php
on line
720
Strict Standards
: Non-static method JError::isError() should not be called statically in
/home1/alekos/public_html/villamatella.gr/libraries/joomla/application/application.php
on line
721
Deprecated
: Non-static method JFactory::getApplication() should not be called statically, assuming $this from incompatible context in
/home1/alekos/public_html/villamatella.gr/includes/router.php
on line
90
Deprecated
: Non-static method JFactory::getConfig() should not be called statically, assuming $this from incompatible context in
/home1/alekos/public_html/villamatella.gr/libraries/joomla/application/application.php
on line
394
Deprecated
: Non-static method JFactory::getConfig() should not be called statically, assuming $this from incompatible context in
/home1/alekos/public_html/villamatella.gr/libraries/joomla/application/application.php
on line
394
Deprecated
: Non-static method JURI::base() should not be called statically, assuming $this from incompatible context in
/home1/alekos/public_html/villamatella.gr/includes/router.php
on line
109
Strict Standards
: Non-static method JURI::getInstance() should not be called statically in
/home1/alekos/public_html/villamatella.gr/libraries/joomla/methods.php
on line
70
Strict Standards
: Non-static method JURI::getInstance() should not be called statically in
/home1/alekos/public_html/villamatella.gr/modules/mod_jflanguageselection/helper.php
on line
242
Strict Standards
: Non-static method JComponentHelper::getParams() should not be called statically in
/home1/alekos/public_html/villamatella.gr/administrator/components/com_joomfish/helpers/extensionHelper.php
on line
84
Strict Standards
: Non-static method JLoader::import() should not be called statically in
/home1/alekos/public_html/villamatella.gr/libraries/loader.php
on line
186
Strict Standards
: Non-static method JFile::exists() should not be called statically in
/home1/alekos/public_html/villamatella.gr/administrator/components/com_joomfish/helpers/extensionHelper.php
on line
113
Strict Standards
: Non-static method JPath::clean() should not be called statically in
/home1/alekos/public_html/villamatella.gr/libraries/joomla/filesystem/file.php
on line
375
Strict Standards
: Non-static method JFile::exists() should not be called statically in
/home1/alekos/public_html/villamatella.gr/administrator/components/com_joomfish/helpers/extensionHelper.php
on line
115
Strict Standards
: Non-static method JPath::clean() should not be called statically in
/home1/alekos/public_html/villamatella.gr/libraries/joomla/filesystem/file.php
on line
375
Deprecated
: Non-static method JURI::base() should not be called statically, assuming $this from incompatible context in
/home1/alekos/public_html/villamatella.gr/modules/mod_jflanguageselection/tmpl/rawimages.php
on line
59
Deprecated
: Non-static method JFile::exists() should not be called statically, assuming $this from incompatible context in
/home1/alekos/public_html/villamatella.gr/modules/mod_jflanguageselection/tmpl/rawimages.php
on line
69
Deprecated
: Non-static method JPath::clean() should not be called statically, assuming $this from incompatible context in
/home1/alekos/public_html/villamatella.gr/libraries/joomla/filesystem/file.php
on line
375
Deprecated
: Non-static method JFactory::getDocument() should not be called statically, assuming $this from incompatible context in
/home1/alekos/public_html/villamatella.gr/modules/mod_jflanguageselection/tmpl/rawimages.php
on line
70
Deprecated
: Non-static method JURI::base() should not be called statically, assuming $this from incompatible context in
/home1/alekos/public_html/villamatella.gr/modules/mod_jflanguageselection/tmpl/rawimages.php
on line
71
Strict Standards
: Non-static method JLoader::load() should not be called statically in
/home1/alekos/public_html/villamatella.gr/libraries/loader.php
on line
161
Strict Standards
: Non-static method JLoader::register() should not be called statically in
/home1/alekos/public_html/villamatella.gr/libraries/loader.php
on line
138
Strict Standards
: Non-static method JLoader::import() should not be called statically in
/home1/alekos/public_html/villamatella.gr/libraries/loader.php
on line
186
Strict Standards
: Non-static method JLoader::register() should not be called statically in
/home1/alekos/public_html/villamatella.gr/libraries/loader.php
on line
71
Strict Standards
: Non-static method JLoader::load() should not be called statically in
/home1/alekos/public_html/villamatella.gr/libraries/loader.php
on line
161
Strict Standards
: Non-static method JLoader::register() should not be called statically in
/home1/alekos/public_html/villamatella.gr/libraries/loader.php
on line
138
Strict Standards
: Declaration of ContentController::display() should be compatible with JController::display($cachable = false) in
/home1/alekos/public_html/villamatella.gr/components/com_content/controller.php
on line
28
Strict Standards
: Non-static method JLoader::import() should not be called statically in
/home1/alekos/public_html/villamatella.gr/libraries/loader.php
on line
186
Strict Standards
: Non-static method JLoader::import() should not be called statically in
/home1/alekos/public_html/villamatella.gr/libraries/loader.php
on line
186
Strict Standards
: Non-static method JLoader::import() should not be called statically in
/home1/alekos/public_html/villamatella.gr/libraries/loader.php
on line
186
Strict Standards
: Non-static method JLoader::register() should not be called statically in
/home1/alekos/public_html/villamatella.gr/libraries/loader.php
on line
71
Strict Standards
: Non-static method JLoader::load() should not be called statically in
/home1/alekos/public_html/villamatella.gr/libraries/loader.php
on line
161
Strict Standards
: Non-static method JLoader::register() should not be called statically in
/home1/alekos/public_html/villamatella.gr/libraries/loader.php
on line
138
Deprecated
: Non-static method JModel::addIncludePath() should not be called statically, assuming $this from incompatible context in
/home1/alekos/public_html/villamatella.gr/libraries/joomla/application/component/controller.php
on line
382
Strict Standards
: Non-static method JLoader::import() should not be called statically in
/home1/alekos/public_html/villamatella.gr/libraries/loader.php
on line
186
Deprecated
: Non-static method JPath::clean() should not be called statically, assuming $this from incompatible context in
/home1/alekos/public_html/villamatella.gr/libraries/joomla/application/component/model.php
on line
253
Deprecated
: Non-static method JRequest::getVar() should not be called statically, assuming $this from incompatible context in
/home1/alekos/public_html/villamatella.gr/components/com_content/content.php
on line
35
Strict Standards
: Non-static method JLoader::load() should not be called statically in
/home1/alekos/public_html/villamatella.gr/libraries/loader.php
on line
161
Strict Standards
: Non-static method JLoader::register() should not be called statically in
/home1/alekos/public_html/villamatella.gr/libraries/loader.php
on line
138
Deprecated
: Non-static method JHTML::_() should not be called statically, assuming $this from incompatible context in
/home1/alekos/public_html/villamatella.gr/components/com_content/controller.php
on line
37
Strict Standards
: Non-static method JLoader::load() should not be called statically in
/home1/alekos/public_html/villamatella.gr/libraries/loader.php
on line
161
Strict Standards
: Non-static method JLoader::register() should not be called statically in
/home1/alekos/public_html/villamatella.gr/libraries/loader.php
on line
138
Strict Standards
: Non-static method JLoader::import() should not be called statically in
/home1/alekos/public_html/villamatella.gr/libraries/loader.php
on line
186
Deprecated
: Non-static method JPath::find() should not be called statically, assuming $this from incompatible context in
/home1/alekos/public_html/villamatella.gr/libraries/joomla/html/html.php
on line
66
Deprecated
: Non-static method JHTML::addIncludePath() should not be called statically, assuming $this from incompatible context in
/home1/alekos/public_html/villamatella.gr/libraries/joomla/html/html.php
on line
66
Strict Standards
: call_user_func_array() expects parameter 1 to be a valid callback, non-static method JHTMLBehavior::caption() should not be called statically in
/home1/alekos/public_html/villamatella.gr/libraries/joomla/html/html.php
on line
91
Strict Standards
: Non-static method JHTML::script() should not be called statically in
/home1/alekos/public_html/villamatella.gr/libraries/joomla/html/html/behavior.php
on line
63
Strict Standards
: Non-static method JHTML::_() should not be called statically in
/home1/alekos/public_html/villamatella.gr/libraries/joomla/html/html.php
on line
172
Strict Standards
: call_user_func_array() expects parameter 1 to be a valid callback, non-static method JHTMLBehavior::mootools() should not be called statically in
/home1/alekos/public_html/villamatella.gr/libraries/joomla/html/html.php
on line
91
Strict Standards
: Non-static method JFactory::getConfig() should not be called statically in
/home1/alekos/public_html/villamatella.gr/libraries/joomla/html/html/behavior.php
on line
46
Strict Standards
: Non-static method JHTML::script() should not be called statically in
/home1/alekos/public_html/villamatella.gr/libraries/joomla/html/html/behavior.php
on line
56
Strict Standards
: Non-static method JURI::root() should not be called statically in
/home1/alekos/public_html/villamatella.gr/libraries/joomla/html/html.php
on line
176
Strict Standards
: Non-static method JURI::base() should not be called statically in
/home1/alekos/public_html/villamatella.gr/libraries/joomla/environment/uri.php
on line
276
Strict Standards
: Non-static method JURI::getInstance() should not be called statically in
/home1/alekos/public_html/villamatella.gr/libraries/joomla/environment/uri.php
on line
276
Strict Standards
: Non-static method JFactory::getDocument() should not be called statically in
/home1/alekos/public_html/villamatella.gr/libraries/joomla/html/html.php
on line
179
Strict Standards
: Non-static method JURI::root() should not be called statically in
/home1/alekos/public_html/villamatella.gr/libraries/joomla/html/html.php
on line
176
Strict Standards
: Non-static method JFactory::getDocument() should not be called statically in
/home1/alekos/public_html/villamatella.gr/libraries/joomla/html/html.php
on line
179
Deprecated
: Non-static method JRequest::getCmd() should not be called statically, assuming $this from incompatible context in
/home1/alekos/public_html/villamatella.gr/components/com_content/controller.php
on line
40
Deprecated
: Non-static method JRequest::getVar() should not be called statically, assuming $this from incompatible context in
/home1/alekos/public_html/villamatella.gr/libraries/joomla/environment/request.php
on line
255
Deprecated
: Non-static method JRequest::_cleanVar() should not be called statically, assuming $this from incompatible context in
/home1/alekos/public_html/villamatella.gr/libraries/joomla/environment/request.php
on line
134
Deprecated
: Non-static method JFilterInput::getInstance() should not be called statically, assuming $this from incompatible context in
/home1/alekos/public_html/villamatella.gr/libraries/joomla/environment/request.php
on line
577
Deprecated
: Non-static method JFactory::getUser() should not be called statically, assuming $this from incompatible context in
/home1/alekos/public_html/villamatella.gr/components/com_content/controller.php
on line
46
Strict Standards
: Non-static method JLoader::import() should not be called statically in
/home1/alekos/public_html/villamatella.gr/libraries/loader.php
on line
186
Deprecated
: Non-static method JFactory::getSession() should not be called statically, assuming $this from incompatible context in
/home1/alekos/public_html/villamatella.gr/libraries/joomla/factory.php
on line
163
Deprecated
: Non-static method JRequest::getVar() should not be called statically, assuming $this from incompatible context in
/home1/alekos/public_html/villamatella.gr/components/com_content/controller.php
on line
47
Deprecated
: Non-static method JRequest::_cleanVar() should not be called statically, assuming $this from incompatible context in
/home1/alekos/public_html/villamatella.gr/libraries/joomla/environment/request.php
on line
134
Deprecated
: Non-static method JFilterInput::getInstance() should not be called statically, assuming $this from incompatible context in
/home1/alekos/public_html/villamatella.gr/libraries/joomla/environment/request.php
on line
577
Deprecated
: preg_replace(): The /e modifier is deprecated, use preg_replace_callback instead in
/home1/alekos/public_html/villamatella.gr/libraries/joomla/filter/filterinput.php
on line
512
Deprecated
: preg_replace(): The /e modifier is deprecated, use preg_replace_callback instead in
/home1/alekos/public_html/villamatella.gr/libraries/joomla/filter/filterinput.php
on line
514
Deprecated
: Non-static method JRequest::getVar() should not be called statically, assuming $this from incompatible context in
/home1/alekos/public_html/villamatella.gr/components/com_content/controller.php
on line
48
Deprecated
: Non-static method JRequest::_cleanVar() should not be called statically, assuming $this from incompatible context in
/home1/alekos/public_html/villamatella.gr/libraries/joomla/environment/request.php
on line
151
Deprecated
: Non-static method JFilterInput::getInstance() should not be called statically, assuming $this from incompatible context in
/home1/alekos/public_html/villamatella.gr/libraries/joomla/environment/request.php
on line
577
Deprecated
: Non-static method JFactory::getDocument() should not be called statically, assuming $this from incompatible context in
/home1/alekos/public_html/villamatella.gr/libraries/joomla/application/component/controller.php
on line
287
Deprecated
: Non-static method JRequest::getCmd() should not be called statically, assuming $this from incompatible context in
/home1/alekos/public_html/villamatella.gr/libraries/joomla/application/component/controller.php
on line
290
Deprecated
: Non-static method JRequest::getVar() should not be called statically, assuming $this from incompatible context in
/home1/alekos/public_html/villamatella.gr/libraries/joomla/environment/request.php
on line
255
Deprecated
: Non-static method JRequest::_cleanVar() should not be called statically, assuming $this from incompatible context in
/home1/alekos/public_html/villamatella.gr/libraries/joomla/environment/request.php
on line
134
Deprecated
: Non-static method JFilterInput::getInstance() should not be called statically, assuming $this from incompatible context in
/home1/alekos/public_html/villamatella.gr/libraries/joomla/environment/request.php
on line
577
Deprecated
: Non-static method JRequest::getCmd() should not be called statically, assuming $this from incompatible context in
/home1/alekos/public_html/villamatella.gr/libraries/joomla/application/component/controller.php
on line
291
Deprecated
: Non-static method JRequest::getVar() should not be called statically, assuming $this from incompatible context in
/home1/alekos/public_html/villamatella.gr/libraries/joomla/environment/request.php
on line
255
Deprecated
: Non-static method JRequest::_cleanVar() should not be called statically, assuming $this from incompatible context in
/home1/alekos/public_html/villamatella.gr/libraries/joomla/environment/request.php
on line
151
Deprecated
: Non-static method JFilterInput::getInstance() should not be called statically, assuming $this from incompatible context in
/home1/alekos/public_html/villamatella.gr/libraries/joomla/environment/request.php
on line
577
Strict Standards
: Non-static method JLoader::load() should not be called statically in
/home1/alekos/public_html/villamatella.gr/libraries/loader.php
on line
161
Strict Standards
: Non-static method JLoader::register() should not be called statically in
/home1/alekos/public_html/villamatella.gr/libraries/loader.php
on line
138
Strict Standards
: Non-static method JLoader::import() should not be called statically in
/home1/alekos/public_html/villamatella.gr/libraries/loader.php
on line
186
Deprecated
: Non-static method JPath::find() should not be called statically, assuming $this from incompatible context in
/home1/alekos/public_html/villamatella.gr/libraries/joomla/application/component/controller.php
on line
627
Strict Standards
: Non-static method JLoader::import() should not be called statically in
/home1/alekos/public_html/villamatella.gr/libraries/loader.php
on line
186
Strict Standards
: Non-static method JLoader::register() should not be called statically in
/home1/alekos/public_html/villamatella.gr/libraries/loader.php
on line
71
Strict Standards
: Non-static method JLoader::load() should not be called statically in
/home1/alekos/public_html/villamatella.gr/libraries/loader.php
on line
161
Strict Standards
: Non-static method JLoader::register() should not be called statically in
/home1/alekos/public_html/villamatella.gr/libraries/loader.php
on line
138
Strict Standards
: Non-static method JLoader::import() should not be called statically in
/home1/alekos/public_html/villamatella.gr/libraries/loader.php
on line
186
Deprecated
: Non-static method JMenu::getInstance() should not be called statically, assuming $this from incompatible context in
/home1/alekos/public_html/villamatella.gr/libraries/joomla/application/application.php
on line
720
Deprecated
: Non-static method JError::isError() should not be called statically, assuming $this from incompatible context in
/home1/alekos/public_html/villamatella.gr/libraries/joomla/application/application.php
on line
721
Deprecated
: Non-static method JFactory::getDBO() should not be called statically, assuming $this from incompatible context in
/home1/alekos/public_html/villamatella.gr/includes/application.php
on line
300
Deprecated
: Non-static method JFactory::getConfig() should not be called statically, assuming $this from incompatible context in
/home1/alekos/public_html/villamatella.gr/plugins/system/jfdatabase/intercept.jdatabasemysql.php
on line
172
Strict Standards
: Non-static method JLoader::import() should not be called statically in
/home1/alekos/public_html/villamatella.gr/libraries/loader.php
on line
186
Deprecated
: Non-static method JClientHelper::getCredentials() should not be called statically, assuming $this from incompatible context in
/home1/alekos/public_html/villamatella.gr/plugins/system/jfdatabase/intercept.jdatabasemysql.php
on line
175
Deprecated
: Non-static method JFolder::exists() should not be called statically, assuming $this from incompatible context in
/home1/alekos/public_html/villamatella.gr/plugins/system/jfdatabase/intercept.jdatabasemysql.php
on line
197
Deprecated
: Non-static method JPath::clean() should not be called statically, assuming $this from incompatible context in
/home1/alekos/public_html/villamatella.gr/libraries/joomla/filesystem/folder.php
on line
392
Deprecated
: Non-static method JFile::exists() should not be called statically, assuming $this from incompatible context in
/home1/alekos/public_html/villamatella.gr/plugins/system/jfdatabase/intercept.jdatabasemysql.php
on line
199
Deprecated
: Non-static method JPath::clean() should not be called statically, assuming $this from incompatible context in
/home1/alekos/public_html/villamatella.gr/libraries/joomla/filesystem/file.php
on line
375
Deprecated
: Non-static method JFactory::getConfig() should not be called statically, assuming $this from incompatible context in
/home1/alekos/public_html/villamatella.gr/plugins/system/jfdatabase/jfdatabase_inherit.php
on line
685
Deprecated
: Non-static method JFactory::getLanguage() should not be called statically, assuming $this from incompatible context in
/home1/alekos/public_html/villamatella.gr/plugins/system/jfdatabase/jfdatabase_inherit.php
on line
692
Deprecated
: Non-static method JRequest::getCmd() should not be called statically, assuming $this from incompatible context in
/home1/alekos/public_html/villamatella.gr/includes/application.php
on line
310
Deprecated
: Non-static method JRequest::getVar() should not be called statically, assuming $this from incompatible context in
/home1/alekos/public_html/villamatella.gr/libraries/joomla/environment/request.php
on line
255
Deprecated
: Non-static method JRequest::_cleanVar() should not be called statically, assuming $this from incompatible context in
/home1/alekos/public_html/villamatella.gr/libraries/joomla/environment/request.php
on line
151
Deprecated
: Non-static method JFilterInput::getInstance() should not be called statically, assuming $this from incompatible context in
/home1/alekos/public_html/villamatella.gr/libraries/joomla/environment/request.php
on line
577
Deprecated
: Non-static method JFilterInput::clean() should not be called statically, assuming $this from incompatible context in
/home1/alekos/public_html/villamatella.gr/includes/application.php
on line
311
Deprecated
: Non-static method JURI::base() should not be called statically, assuming $this from incompatible context in
/home1/alekos/public_html/villamatella.gr/libraries/joomla/application/component/view.php
on line
178
Deprecated
: Non-static method JHTML::addIncludePath() should not be called statically, assuming $this from incompatible context in
/home1/alekos/public_html/villamatella.gr/components/com_content/view.php
on line
13
Deprecated
: Non-static method JPath::clean() should not be called statically, assuming $this from incompatible context in
/home1/alekos/public_html/villamatella.gr/libraries/joomla/html/html.php
on line
326
Deprecated
: Non-static method JModel::getInstance() should not be called statically, assuming $this from incompatible context in
/home1/alekos/public_html/villamatella.gr/libraries/joomla/application/component/controller.php
on line
592
Strict Standards
: Non-static method JLoader::load() should not be called statically in
/home1/alekos/public_html/villamatella.gr/libraries/loader.php
on line
161
Strict Standards
: Non-static method JLoader::register() should not be called statically in
/home1/alekos/public_html/villamatella.gr/libraries/loader.php
on line
138
Strict Standards
: Non-static method JLoader::import() should not be called statically in
/home1/alekos/public_html/villamatella.gr/libraries/loader.php
on line
186
Deprecated
: Non-static method JPath::find() should not be called statically, assuming $this from incompatible context in
/home1/alekos/public_html/villamatella.gr/libraries/joomla/application/component/model.php
on line
112
Deprecated
: Non-static method JModel::addIncludePath() should not be called statically, assuming $this from incompatible context in
/home1/alekos/public_html/villamatella.gr/libraries/joomla/application/component/model.php
on line
113
Deprecated
: Non-static method JModel::_createFileName() should not be called statically, assuming $this from incompatible context in
/home1/alekos/public_html/villamatella.gr/libraries/joomla/application/component/model.php
on line
114
Strict Standards
: Non-static method JLoader::import() should not be called statically in
/home1/alekos/public_html/villamatella.gr/libraries/loader.php
on line
186
Deprecated
: Non-static method JFactory::getDBO() should not be called statically, assuming $this from incompatible context in
/home1/alekos/public_html/villamatella.gr/libraries/joomla/application/component/model.php
on line
83
Strict Standards
: Non-static method JLoader::import() should not be called statically in
/home1/alekos/public_html/villamatella.gr/libraries/loader.php
on line
186
Deprecated
: Non-static method JTable::addIncludePath() should not be called statically, assuming $this from incompatible context in
/home1/alekos/public_html/villamatella.gr/libraries/joomla/application/component/model.php
on line
268
Deprecated
: Non-static method JRequest::getVar() should not be called statically, assuming $this from incompatible context in
/home1/alekos/public_html/villamatella.gr/components/com_content/models/article.php
on line
45
Deprecated
: Non-static method JRequest::_cleanVar() should not be called statically, assuming $this from incompatible context in
/home1/alekos/public_html/villamatella.gr/libraries/joomla/environment/request.php
on line
134
Deprecated
: Non-static method JFilterInput::getInstance() should not be called statically, assuming $this from incompatible context in
/home1/alekos/public_html/villamatella.gr/libraries/joomla/environment/request.php
on line
577
Deprecated
: Non-static method JFactory::getApplication() should not be called statically, assuming $this from incompatible context in
/home1/alekos/public_html/villamatella.gr/libraries/joomla/application/component/controller.php
on line
356
Strict Standards
: Non-static method JLoader::import() should not be called statically in
/home1/alekos/public_html/villamatella.gr/libraries/loader.php
on line
186
Deprecated
: Non-static method JMenu::getInstance() should not be called statically, assuming $this from incompatible context in
/home1/alekos/public_html/villamatella.gr/libraries/joomla/application/application.php
on line
720
Deprecated
: Non-static method JError::isError() should not be called statically, assuming $this from incompatible context in
/home1/alekos/public_html/villamatella.gr/libraries/joomla/application/application.php
on line
721
Deprecated
: Non-static method JRegistryFormat::getInstance() should not be called statically, assuming $this from incompatible context in
/home1/alekos/public_html/villamatella.gr/libraries/joomla/registry/registry.php
on line
373
Deprecated
: Non-static method JFilterInput::clean() should not be called statically, assuming $this from incompatible context in
/home1/alekos/public_html/villamatella.gr/libraries/joomla/registry/format.php
on line
45
Deprecated
: Non-static method JFactory::getCache() should not be called statically, assuming $this from incompatible context in
/home1/alekos/public_html/villamatella.gr/libraries/joomla/application/component/controller.php
on line
307
Deprecated
: Non-static method JFactory::getConfig() should not be called statically, assuming $this from incompatible context in
/home1/alekos/public_html/villamatella.gr/libraries/joomla/factory.php
on line
192
Strict Standards
: Non-static method JLoader::import() should not be called statically in
/home1/alekos/public_html/villamatella.gr/libraries/loader.php
on line
186
Deprecated
: Non-static method JCache::getInstance() should not be called statically, assuming $this from incompatible context in
/home1/alekos/public_html/villamatella.gr/libraries/joomla/factory.php
on line
208
Strict Standards
: Non-static method JLoader::load() should not be called statically in
/home1/alekos/public_html/villamatella.gr/libraries/loader.php
on line
161
Strict Standards
: Non-static method JLoader::register() should not be called statically in
/home1/alekos/public_html/villamatella.gr/libraries/loader.php
on line
138
Strict Standards
: Declaration of JCacheView::get() should be compatible with JCache::get($id, $group = NULL) in
/home1/alekos/public_html/villamatella.gr/libraries/joomla/cache/handler/view.php
on line
150
Deprecated
: Non-static method JRequest::getCmd() should not be called statically, assuming $this from incompatible context in
/home1/alekos/public_html/villamatella.gr/libraries/joomla/cache/cache.php
on line
87
Deprecated
: Non-static method JRequest::getVar() should not be called statically, assuming $this from incompatible context in
/home1/alekos/public_html/villamatella.gr/libraries/joomla/environment/request.php
on line
255
Deprecated
: Non-static method JRequest::_cleanVar() should not be called statically, assuming $this from incompatible context in
/home1/alekos/public_html/villamatella.gr/libraries/joomla/environment/request.php
on line
151
Deprecated
: Non-static method JFilterInput::getInstance() should not be called statically, assuming $this from incompatible context in
/home1/alekos/public_html/villamatella.gr/libraries/joomla/environment/request.php
on line
577
Deprecated
: Non-static method JRequest::getURI() should not be called statically, assuming $this from incompatible context in
/home1/alekos/public_html/villamatella.gr/libraries/joomla/cache/handler/view.php
on line
148
Deprecated
: Non-static method JFactory::getURI() should not be called statically, assuming $this from incompatible context in
/home1/alekos/public_html/villamatella.gr/libraries/joomla/environment/request.php
on line
51
Strict Standards
: Non-static method JLoader::import() should not be called statically in
/home1/alekos/public_html/villamatella.gr/libraries/loader.php
on line
186
Deprecated
: Non-static method JURI::getInstance() should not be called statically, assuming $this from incompatible context in
/home1/alekos/public_html/villamatella.gr/libraries/joomla/factory.php
on line
403
Deprecated
: Non-static method JCacheStorage::getInstance() should not be called statically, assuming $this from incompatible context in
/home1/alekos/public_html/villamatella.gr/libraries/joomla/cache/cache.php
on line
313
Deprecated
: Non-static method JFactory::getConfig() should not be called statically, assuming $this from incompatible context in
/home1/alekos/public_html/villamatella.gr/libraries/joomla/cache/storage/file.php
on line
37
Deprecated
: Non-static method JError::isError() should not be called statically, assuming $this from incompatible context in
/home1/alekos/public_html/villamatella.gr/libraries/joomla/cache/cache.php
on line
206
Deprecated
: Non-static method JFactory::getDocument() should not be called statically, assuming $this from incompatible context in
/home1/alekos/public_html/villamatella.gr/libraries/joomla/cache/handler/view.php
on line
85
Deprecated
: Non-static method JFactory::getUser() should not be called statically, assuming $this from incompatible context in
/home1/alekos/public_html/villamatella.gr/components/com_content/views/article/view.html.php
on line
33
Strict Standards
: Non-static method JLoader::import() should not be called statically in
/home1/alekos/public_html/villamatella.gr/libraries/loader.php
on line
186
Deprecated
: Non-static method JFactory::getSession() should not be called statically, assuming $this from incompatible context in
/home1/alekos/public_html/villamatella.gr/libraries/joomla/factory.php
on line
163
Deprecated
: Non-static method JFactory::getDocument() should not be called statically, assuming $this from incompatible context in
/home1/alekos/public_html/villamatella.gr/components/com_content/views/article/view.html.php
on line
34
Deprecated
: Non-static method JDispatcher::getInstance() should not be called statically, assuming $this from incompatible context in
/home1/alekos/public_html/villamatella.gr/components/com_content/views/article/view.html.php
on line
35
Strict Standards
: Non-static method JLoader::import() should not be called statically in
/home1/alekos/public_html/villamatella.gr/libraries/loader.php
on line
186
Strict Standards
: Non-static method JLoader::register() should not be called statically in
/home1/alekos/public_html/villamatella.gr/libraries/loader.php
on line
71
Strict Standards
: Non-static method JLoader::load() should not be called statically in
/home1/alekos/public_html/villamatella.gr/libraries/loader.php
on line
161
Strict Standards
: Non-static method JLoader::register() should not be called statically in
/home1/alekos/public_html/villamatella.gr/libraries/loader.php
on line
138
Deprecated
: Non-static method JPathway::getInstance() should not be called statically, assuming $this from incompatible context in
/home1/alekos/public_html/villamatella.gr/libraries/joomla/application/application.php
on line
697
Deprecated
: Non-static method JApplicationHelper::getClientInfo() should not be called statically, assuming $this from incompatible context in
/home1/alekos/public_html/villamatella.gr/libraries/joomla/application/pathway.php
on line
75
Deprecated
: Non-static method JSite::getMenu() should not be called statically, assuming $this from incompatible context in
/home1/alekos/public_html/villamatella.gr/includes/pathway.php
on line
34
Deprecated
: Non-static method JApplication::getMenu() should not be called statically, assuming $this from incompatible context in
/home1/alekos/public_html/villamatella.gr/includes/application.php
on line
345
Strict Standards
: Non-static method JLoader::import() should not be called statically in
/home1/alekos/public_html/villamatella.gr/libraries/loader.php
on line
186
Deprecated
: Non-static method JMenu::getInstance() should not be called statically, assuming $this from incompatible context in
/home1/alekos/public_html/villamatella.gr/libraries/joomla/application/application.php
on line
720
Deprecated
: Non-static method JError::isError() should not be called statically, assuming $this from incompatible context in
/home1/alekos/public_html/villamatella.gr/libraries/joomla/application/application.php
on line
721
Deprecated
: Non-static method JError::isError() should not be called statically, assuming $this from incompatible context in
/home1/alekos/public_html/villamatella.gr/libraries/joomla/application/application.php
on line
698
Deprecated
: Non-static method JComponentHelper::getParams() should not be called statically, assuming $this from incompatible context in
/home1/alekos/public_html/villamatella.gr/includes/application.php
on line
240
Strict Standards
: Non-static method JLoader::import() should not be called statically in
/home1/alekos/public_html/villamatella.gr/libraries/loader.php
on line
186
Deprecated
: Non-static method JMenu::getInstance() should not be called statically, assuming $this from incompatible context in
/home1/alekos/public_html/villamatella.gr/libraries/joomla/application/application.php
on line
720
Deprecated
: Non-static method JError::isError() should not be called statically, assuming $this from incompatible context in
/home1/alekos/public_html/villamatella.gr/libraries/joomla/application/application.php
on line
721
Deprecated
: Non-static method JFactory::getConfig() should not be called statically, assuming $this from incompatible context in
/home1/alekos/public_html/villamatella.gr/libraries/joomla/application/application.php
on line
394
Deprecated
: Non-static method JFactory::getConfig() should not be called statically, assuming $this from incompatible context in
/home1/alekos/public_html/villamatella.gr/libraries/joomla/application/application.php
on line
394
Deprecated
: Non-static method JRegistryFormat::getInstance() should not be called statically, assuming $this from incompatible context in
/home1/alekos/public_html/villamatella.gr/libraries/joomla/registry/registry.php
on line
373
Deprecated
: Non-static method JFilterInput::clean() should not be called statically, assuming $this from incompatible context in
/home1/alekos/public_html/villamatella.gr/libraries/joomla/registry/format.php
on line
45
Deprecated
: Non-static method ContentHelperQuery::buildVotingQuery() should not be called statically, assuming $this from incompatible context in
/home1/alekos/public_html/villamatella.gr/components/com_content/models/article.php
on line
526
Deprecated
: Non-static method JFactory::getUser() should not be called statically, assuming $this from incompatible context in
/home1/alekos/public_html/villamatella.gr/components/com_content/models/article.php
on line
608
Strict Standards
: Non-static method JLoader::import() should not be called statically in
/home1/alekos/public_html/villamatella.gr/libraries/loader.php
on line
186
Deprecated
: Non-static method JFactory::getSession() should not be called statically, assuming $this from incompatible context in
/home1/alekos/public_html/villamatella.gr/libraries/joomla/factory.php
on line
163
Deprecated
: Non-static method JFactory::getDate() should not be called statically, assuming $this from incompatible context in
/home1/alekos/public_html/villamatella.gr/components/com_content/models/article.php
on line
611
Strict Standards
: Non-static method JLoader::import() should not be called statically in
/home1/alekos/public_html/villamatella.gr/libraries/loader.php
on line
186
Strict Standards
: Non-static method JLoader::register() should not be called statically in
/home1/alekos/public_html/villamatella.gr/libraries/loader.php
on line
71
Deprecated
: Non-static method JFactory::getLanguage() should not be called statically, assuming $this from incompatible context in
/home1/alekos/public_html/villamatella.gr/libraries/joomla/factory.php
on line
427
Strict Standards
: Non-static method JLoader::load() should not be called statically in
/home1/alekos/public_html/villamatella.gr/libraries/loader.php
on line
161
Strict Standards
: Non-static method JLoader::register() should not be called statically in
/home1/alekos/public_html/villamatella.gr/libraries/loader.php
on line
138
Deprecated
: Non-static method JFactory::getACL() should not be called statically, assuming $this from incompatible context in
/home1/alekos/public_html/villamatella.gr/libraries/joomla/user/user.php
on line
260
Deprecated
: Non-static method JFactory::_createACL() should not be called statically, assuming $this from incompatible context in
/home1/alekos/public_html/villamatella.gr/libraries/joomla/factory.php
on line
227
Strict Standards
: Non-static method JLoader::import() should not be called statically in
/home1/alekos/public_html/villamatella.gr/libraries/loader.php
on line
186
Strict Standards
: Non-static method JLoader::register() should not be called statically in
/home1/alekos/public_html/villamatella.gr/libraries/loader.php
on line
71
Deprecated
: Non-static method JFactory::getDBO() should not be called statically, assuming $this from incompatible context in
/home1/alekos/public_html/villamatella.gr/libraries/joomla/factory.php
on line
527
Strict Standards
: Non-static method JLoader::load() should not be called statically in
/home1/alekos/public_html/villamatella.gr/libraries/loader.php
on line
161
Strict Standards
: Non-static method JLoader::register() should not be called statically in
/home1/alekos/public_html/villamatella.gr/libraries/loader.php
on line
138
Strict Standards
: Non-static method JLoader::import() should not be called statically in
/home1/alekos/public_html/villamatella.gr/libraries/loader.php
on line
186
Strict Standards
: Non-static method JLoader::import() should not be called statically in
/home1/alekos/public_html/villamatella.gr/libraries/loader.php
on line
186
Deprecated
: Non-static method JFactory::getConfig() should not be called statically, assuming $this from incompatible context in
/home1/alekos/public_html/villamatella.gr/plugins/system/jfdatabase/intercept.jdatabasemysql.php
on line
172
Strict Standards
: Non-static method JLoader::import() should not be called statically in
/home1/alekos/public_html/villamatella.gr/libraries/loader.php
on line
186
Deprecated
: Non-static method JClientHelper::getCredentials() should not be called statically, assuming $this from incompatible context in
/home1/alekos/public_html/villamatella.gr/plugins/system/jfdatabase/intercept.jdatabasemysql.php
on line
175
Deprecated
: Non-static method JFolder::exists() should not be called statically, assuming $this from incompatible context in
/home1/alekos/public_html/villamatella.gr/plugins/system/jfdatabase/intercept.jdatabasemysql.php
on line
197
Deprecated
: Non-static method JPath::clean() should not be called statically, assuming $this from incompatible context in
/home1/alekos/public_html/villamatella.gr/libraries/joomla/filesystem/folder.php
on line
392
Deprecated
: Non-static method JFile::exists() should not be called statically, assuming $this from incompatible context in
/home1/alekos/public_html/villamatella.gr/plugins/system/jfdatabase/intercept.jdatabasemysql.php
on line
199
Deprecated
: Non-static method JPath::clean() should not be called statically, assuming $this from incompatible context in
/home1/alekos/public_html/villamatella.gr/libraries/joomla/filesystem/file.php
on line
375
Deprecated
: Non-static method JFile::write() should not be called statically, assuming $this from incompatible context in
/home1/alekos/public_html/villamatella.gr/plugins/system/jfdatabase/intercept.jdatabasemysql.php
on line
98
Strict Standards
: Non-static method JLoader::import() should not be called statically in
/home1/alekos/public_html/villamatella.gr/libraries/loader.php
on line
186
Deprecated
: Non-static method JClientHelper::getCredentials() should not be called statically, assuming $this from incompatible context in
/home1/alekos/public_html/villamatella.gr/libraries/joomla/filesystem/file.php
on line
288
Strict Standards
: Non-static method JLoader::import() should not be called statically in
/home1/alekos/public_html/villamatella.gr/libraries/loader.php
on line
186
Strict Standards
: Non-static method JLoader::register() should not be called statically in
/home1/alekos/public_html/villamatella.gr/libraries/loader.php
on line
71
Strict Standards
: Non-static method JLoader::load() should not be called statically in
/home1/alekos/public_html/villamatella.gr/libraries/loader.php
on line
161
Strict Standards
: Non-static method JLoader::register() should not be called statically in
/home1/alekos/public_html/villamatella.gr/libraries/loader.php
on line
138
Strict Standards
: Declaration of JFTP::get() should be compatible with JObject::get($property, $default = NULL) in
/home1/alekos/public_html/villamatella.gr/libraries/joomla/client/ftp.php
on line
1467
Deprecated
: Non-static method JFTP::getInstance() should not be called statically, assuming $this from incompatible context in
/home1/alekos/public_html/villamatella.gr/libraries/joomla/filesystem/file.php
on line
299
Strict Standards
: Non-static method JLoader::import() should not be called statically in
/home1/alekos/public_html/villamatella.gr/libraries/loader.php
on line
186
Strict Standards
: Non-static method JLoader::register() should not be called statically in
/home1/alekos/public_html/villamatella.gr/libraries/loader.php
on line
71
Deprecated
: Non-static method JLoader::load() should not be called statically, assuming $this from incompatible context in
/home1/alekos/public_html/villamatella.gr/libraries/joomla/client/ftp.php
on line
164
Strict Standards
: Non-static method JLoader::load() should not be called statically in
/home1/alekos/public_html/villamatella.gr/libraries/loader.php
on line
161
Strict Standards
: Non-static method JLoader::register() should not be called statically in
/home1/alekos/public_html/villamatella.gr/libraries/loader.php
on line
138
Deprecated
: Non-static method JPath::clean() should not be called statically, assuming $this from incompatible context in
/home1/alekos/public_html/villamatella.gr/libraries/joomla/filesystem/file.php
on line
302
Deprecated
: Non-static method JFolder::files() should not be called statically, assuming $this from incompatible context in
/home1/alekos/public_html/villamatella.gr/plugins/system/jfdatabase/intercept.jdatabasemysql.php
on line
112
Deprecated
: Non-static method JPath::clean() should not be called statically, assuming $this from incompatible context in
/home1/alekos/public_html/villamatella.gr/libraries/joomla/filesystem/folder.php
on line
414
Deprecated
: Non-static method JFile::exists() should not be called statically, assuming $this from incompatible context in
/home1/alekos/public_html/villamatella.gr/plugins/system/jfdatabase/intercept.jdatabasemysql.php
on line
116
Deprecated
: Non-static method JPath::clean() should not be called statically, assuming $this from incompatible context in
/home1/alekos/public_html/villamatella.gr/libraries/joomla/filesystem/file.php
on line
375
Deprecated
: Non-static method JFile::delete() should not be called statically, assuming $this from incompatible context in
/home1/alekos/public_html/villamatella.gr/plugins/system/jfdatabase/intercept.jdatabasemysql.php
on line
117
Strict Standards
: Non-static method JLoader::import() should not be called statically in
/home1/alekos/public_html/villamatella.gr/libraries/loader.php
on line
186
Deprecated
: Non-static method JClientHelper::getCredentials() should not be called statically, assuming $this from incompatible context in
/home1/alekos/public_html/villamatella.gr/libraries/joomla/filesystem/file.php
on line
139
Strict Standards
: Non-static method JLoader::import() should not be called statically in
/home1/alekos/public_html/villamatella.gr/libraries/loader.php
on line
186
Deprecated
: Non-static method JFTP::getInstance() should not be called statically, assuming $this from incompatible context in
/home1/alekos/public_html/villamatella.gr/libraries/joomla/filesystem/file.php
on line
152
Deprecated
: Non-static method JPath::clean() should not be called statically, assuming $this from incompatible context in
/home1/alekos/public_html/villamatella.gr/libraries/joomla/filesystem/file.php
on line
157
Deprecated
: Non-static method JFile::exists() should not be called statically, assuming $this from incompatible context in
/home1/alekos/public_html/villamatella.gr/plugins/system/jfdatabase/intercept.jdatabasemysql.php
on line
116
Deprecated
: Non-static method JPath::clean() should not be called statically, assuming $this from incompatible context in
/home1/alekos/public_html/villamatella.gr/libraries/joomla/filesystem/file.php
on line
375
Deprecated
: Non-static method JFile::exists() should not be called statically, assuming $this from incompatible context in
/home1/alekos/public_html/villamatella.gr/plugins/system/jfdatabase/intercept.jdatabasemysql.php
on line
116
Deprecated
: Non-static method JPath::clean() should not be called statically, assuming $this from incompatible context in
/home1/alekos/public_html/villamatella.gr/libraries/joomla/filesystem/file.php
on line
375
Deprecated
: Non-static method JFile::exists() should not be called statically, assuming $this from incompatible context in
/home1/alekos/public_html/villamatella.gr/plugins/system/jfdatabase/intercept.jdatabasemysql.php
on line
116
Deprecated
: Non-static method JPath::clean() should not be called statically, assuming $this from incompatible context in
/home1/alekos/public_html/villamatella.gr/libraries/joomla/filesystem/file.php
on line
375
Deprecated
: Non-static method JFile::delete() should not be called statically, assuming $this from incompatible context in
/home1/alekos/public_html/villamatella.gr/plugins/system/jfdatabase/intercept.jdatabasemysql.php
on line
117
Strict Standards
: Non-static method JLoader::import() should not be called statically in
/home1/alekos/public_html/villamatella.gr/libraries/loader.php
on line
186
Deprecated
: Non-static method JClientHelper::getCredentials() should not be called statically, assuming $this from incompatible context in
/home1/alekos/public_html/villamatella.gr/libraries/joomla/filesystem/file.php
on line
139
Strict Standards
: Non-static method JLoader::import() should not be called statically in
/home1/alekos/public_html/villamatella.gr/libraries/loader.php
on line
186
Deprecated
: Non-static method JFTP::getInstance() should not be called statically, assuming $this from incompatible context in
/home1/alekos/public_html/villamatella.gr/libraries/joomla/filesystem/file.php
on line
152
Deprecated
: Non-static method JPath::clean() should not be called statically, assuming $this from incompatible context in
/home1/alekos/public_html/villamatella.gr/libraries/joomla/filesystem/file.php
on line
157
Deprecated
: Non-static method JFile::exists() should not be called statically, assuming $this from incompatible context in
/home1/alekos/public_html/villamatella.gr/plugins/system/jfdatabase/intercept.jdatabasemysql.php
on line
116
Deprecated
: Non-static method JPath::clean() should not be called statically, assuming $this from incompatible context in
/home1/alekos/public_html/villamatella.gr/libraries/joomla/filesystem/file.php
on line
375
Deprecated
: Non-static method JFile::exists() should not be called statically, assuming $this from incompatible context in
/home1/alekos/public_html/villamatella.gr/plugins/system/jfdatabase/intercept.jdatabasemysql.php
on line
116
Deprecated
: Non-static method JPath::clean() should not be called statically, assuming $this from incompatible context in
/home1/alekos/public_html/villamatella.gr/libraries/joomla/filesystem/file.php
on line
375
Deprecated
: Non-static method JFile::delete() should not be called statically, assuming $this from incompatible context in
/home1/alekos/public_html/villamatella.gr/plugins/system/jfdatabase/intercept.jdatabasemysql.php
on line
117
Strict Standards
: Non-static method JLoader::import() should not be called statically in
/home1/alekos/public_html/villamatella.gr/libraries/loader.php
on line
186
Deprecated
: Non-static method JClientHelper::getCredentials() should not be called statically, assuming $this from incompatible context in
/home1/alekos/public_html/villamatella.gr/libraries/joomla/filesystem/file.php
on line
139
Strict Standards
: Non-static method JLoader::import() should not be called statically in
/home1/alekos/public_html/villamatella.gr/libraries/loader.php
on line
186
Deprecated
: Non-static method JFTP::getInstance() should not be called statically, assuming $this from incompatible context in
/home1/alekos/public_html/villamatella.gr/libraries/joomla/filesystem/file.php
on line
152
Deprecated
: Non-static method JPath::clean() should not be called statically, assuming $this from incompatible context in
/home1/alekos/public_html/villamatella.gr/libraries/joomla/filesystem/file.php
on line
157
Deprecated
: Non-static method JFactory::getConfig() should not be called statically, assuming $this from incompatible context in
/home1/alekos/public_html/villamatella.gr/plugins/system/jfdatabase/jfdatabase_inherit.php
on line
685
Deprecated
: Non-static method JFactory::getLanguage() should not be called statically, assuming $this from incompatible context in
/home1/alekos/public_html/villamatella.gr/plugins/system/jfdatabase/jfdatabase_inherit.php
on line
692
Deprecated
: Non-static method JoomFish::translateList() should not be called statically, assuming $this from incompatible context in
/home1/alekos/public_html/villamatella.gr/plugins/system/jfdatabase/jfdatabase_inherit.php
on line
381
Deprecated
: Non-static method JFactory::getConfig() should not be called statically, assuming $this from incompatible context in
/home1/alekos/public_html/villamatella.gr/components/com_joomfish/helpers/joomfish.class.php
on line
81
Deprecated
: Non-static method JFactory::getDBO() should not be called statically, assuming $this from incompatible context in
/home1/alekos/public_html/villamatella.gr/components/com_joomfish/helpers/joomfish.class.php
on line
85
Deprecated
: Non-static method JoomFish::translateListWithIDs() should not be called statically, assuming $this from incompatible context in
/home1/alekos/public_html/villamatella.gr/components/com_joomfish/helpers/joomfish.class.php
on line
142
Deprecated
: Non-static method JFactory::getConfig() should not be called statically, assuming $this from incompatible context in
/home1/alekos/public_html/villamatella.gr/components/com_joomfish/helpers/joomfish.class.php
on line
161
Deprecated
: Non-static method JFactory::getConfig() should not be called statically, assuming $this from incompatible context in
/home1/alekos/public_html/villamatella.gr/components/com_joomfish/helpers/joomfish.class.php
on line
164
Deprecated
: Non-static method JFactory::getDBO() should not be called statically, assuming $this from incompatible context in
/home1/alekos/public_html/villamatella.gr/components/com_joomfish/helpers/joomfish.class.php
on line
168
Deprecated
: Non-static method JDispatcher::getInstance() should not be called statically, assuming $this from incompatible context in
/home1/alekos/public_html/villamatella.gr/components/com_joomfish/helpers/joomfish.class.php
on line
171
Deprecated
: Non-static method JPluginHelper::importPlugin() should not be called statically, assuming $this from incompatible context in
/home1/alekos/public_html/villamatella.gr/components/com_joomfish/helpers/joomfish.class.php
on line
172
Deprecated
: Non-static method JPluginHelper::_load() should not be called statically, assuming $this from incompatible context in
/home1/alekos/public_html/villamatella.gr/libraries/joomla/plugin/helper.php
on line
92
Deprecated
: Non-static method JPluginHelper::_import() should not be called statically, assuming $this from incompatible context in
/home1/alekos/public_html/villamatella.gr/libraries/joomla/plugin/helper.php
on line
97
Deprecated
: Non-static method JFactory::getUser() should not be called statically, assuming $this from incompatible context in
/home1/alekos/public_html/villamatella.gr/components/com_joomfish/helpers/joomfish.class.php
on line
237
Strict Standards
: Non-static method JLoader::import() should not be called statically in
/home1/alekos/public_html/villamatella.gr/libraries/loader.php
on line
186
Deprecated
: Non-static method JFactory::getSession() should not be called statically, assuming $this from incompatible context in
/home1/alekos/public_html/villamatella.gr/libraries/joomla/factory.php
on line
163
Deprecated
: Non-static method JFactory::getConfig() should not be called statically, assuming $this from incompatible context in
/home1/alekos/public_html/villamatella.gr/plugins/joomfish/missing_translation.php
on line
57
Deprecated
: Non-static method JFactory::getDBO() should not be called statically, assuming $this from incompatible context in
/home1/alekos/public_html/villamatella.gr/plugins/joomfish/missing_translation.php
on line
60
Deprecated
: Non-static method JRegistryFormat::getInstance() should not be called statically, assuming $this from incompatible context in
/home1/alekos/public_html/villamatella.gr/libraries/joomla/registry/registry.php
on line
373
Deprecated
: Non-static method JFilterInput::clean() should not be called statically, assuming $this from incompatible context in
/home1/alekos/public_html/villamatella.gr/libraries/joomla/registry/format.php
on line
45
Deprecated
: Non-static method JoomFish::translateListWithIDs() should not be called statically, assuming $this from incompatible context in
/home1/alekos/public_html/villamatella.gr/components/com_joomfish/helpers/joomfish.class.php
on line
142
Deprecated
: Non-static method JFactory::getConfig() should not be called statically, assuming $this from incompatible context in
/home1/alekos/public_html/villamatella.gr/components/com_joomfish/helpers/joomfish.class.php
on line
161
Deprecated
: Non-static method JFactory::getConfig() should not be called statically, assuming $this from incompatible context in
/home1/alekos/public_html/villamatella.gr/components/com_joomfish/helpers/joomfish.class.php
on line
164
Deprecated
: Non-static method JFactory::getDBO() should not be called statically, assuming $this from incompatible context in
/home1/alekos/public_html/villamatella.gr/components/com_joomfish/helpers/joomfish.class.php
on line
168
Deprecated
: Non-static method JDispatcher::getInstance() should not be called statically, assuming $this from incompatible context in
/home1/alekos/public_html/villamatella.gr/components/com_joomfish/helpers/joomfish.class.php
on line
171
Deprecated
: Non-static method JPluginHelper::importPlugin() should not be called statically, assuming $this from incompatible context in
/home1/alekos/public_html/villamatella.gr/components/com_joomfish/helpers/joomfish.class.php
on line
172
Deprecated
: Non-static method JPluginHelper::_load() should not be called statically, assuming $this from incompatible context in
/home1/alekos/public_html/villamatella.gr/libraries/joomla/plugin/helper.php
on line
92
Deprecated
: Non-static method JPluginHelper::_import() should not be called statically, assuming $this from incompatible context in
/home1/alekos/public_html/villamatella.gr/libraries/joomla/plugin/helper.php
on line
97
Deprecated
: Non-static method JFactory::getUser() should not be called statically, assuming $this from incompatible context in
/home1/alekos/public_html/villamatella.gr/components/com_joomfish/helpers/joomfish.class.php
on line
237
Strict Standards
: Non-static method JLoader::import() should not be called statically in
/home1/alekos/public_html/villamatella.gr/libraries/loader.php
on line
186
Deprecated
: Non-static method JFactory::getSession() should not be called statically, assuming $this from incompatible context in
/home1/alekos/public_html/villamatella.gr/libraries/joomla/factory.php
on line
163
Deprecated
: Non-static method JFactory::getConfig() should not be called statically, assuming $this from incompatible context in
/home1/alekos/public_html/villamatella.gr/plugins/joomfish/missing_translation.php
on line
57
Deprecated
: Non-static method JFactory::getDBO() should not be called statically, assuming $this from incompatible context in
/home1/alekos/public_html/villamatella.gr/plugins/joomfish/missing_translation.php
on line
60
Strict Standards
: Non-static method JLoader::load() should not be called statically in
/home1/alekos/public_html/villamatella.gr/libraries/loader.php
on line
161
Strict Standards
: Non-static method JLoader::register() should not be called statically in
/home1/alekos/public_html/villamatella.gr/libraries/loader.php
on line
138
Deprecated
: Non-static method JText::_() should not be called statically, assuming $this from incompatible context in
/home1/alekos/public_html/villamatella.gr/components/com_content/models/article.php
on line
550
Deprecated
: Non-static method JFactory::getLanguage() should not be called statically, assuming $this from incompatible context in
/home1/alekos/public_html/villamatella.gr/libraries/joomla/methods.php
on line
120
Deprecated
: Non-static method JFactory::getUser() should not be called statically, assuming $this from incompatible context in
/home1/alekos/public_html/villamatella.gr/components/com_content/models/article.php
on line
110
Strict Standards
: Non-static method JLoader::import() should not be called statically in
/home1/alekos/public_html/villamatella.gr/libraries/loader.php
on line
186
Deprecated
: Non-static method JFactory::getSession() should not be called statically, assuming $this from incompatible context in
/home1/alekos/public_html/villamatella.gr/libraries/joomla/factory.php
on line
163
Deprecated
: Non-static method JRegistryFormat::getInstance() should not be called statically, assuming $this from incompatible context in
/home1/alekos/public_html/villamatella.gr/libraries/joomla/registry/registry.php
on line
373
Deprecated
: Non-static method JFilterInput::clean() should not be called statically, assuming $this from incompatible context in
/home1/alekos/public_html/villamatella.gr/libraries/joomla/registry/format.php
on line
45
Deprecated
: Non-static method JRequest::getVar() should not be called statically, assuming $this from incompatible context in
/home1/alekos/public_html/villamatella.gr/components/com_content/models/article.php
on line
583
Deprecated
: Non-static method JRequest::_cleanVar() should not be called statically, assuming $this from incompatible context in
/home1/alekos/public_html/villamatella.gr/libraries/joomla/environment/request.php
on line
151
Deprecated
: Non-static method JFilterInput::getInstance() should not be called statically, assuming $this from incompatible context in
/home1/alekos/public_html/villamatella.gr/libraries/joomla/environment/request.php
on line
577
Deprecated
: Non-static method JRequest::getVar() should not be called statically, assuming $this from incompatible context in
/home1/alekos/public_html/villamatella.gr/components/com_content/views/article/view.html.php
on line
60
Deprecated
: Non-static method JRequest::_cleanVar() should not be called statically, assuming $this from incompatible context in
/home1/alekos/public_html/villamatella.gr/libraries/joomla/environment/request.php
on line
151
Deprecated
: Non-static method JFilterInput::getInstance() should not be called statically, assuming $this from incompatible context in
/home1/alekos/public_html/villamatella.gr/libraries/joomla/environment/request.php
on line
577
Deprecated
: Non-static method JTable::getInstance() should not be called statically, assuming $this from incompatible context in
/home1/alekos/public_html/villamatella.gr/components/com_content/models/article.php
on line
181
Strict Standards
: Non-static method JLoader::load() should not be called statically in
/home1/alekos/public_html/villamatella.gr/libraries/loader.php
on line
161
Strict Standards
: Non-static method JLoader::register() should not be called statically in
/home1/alekos/public_html/villamatella.gr/libraries/loader.php
on line
138
Strict Standards
: Non-static method JLoader::import() should not be called statically in
/home1/alekos/public_html/villamatella.gr/libraries/loader.php
on line
186
Deprecated
: Non-static method JPath::find() should not be called statically, assuming $this from incompatible context in
/home1/alekos/public_html/villamatella.gr/libraries/joomla/database/table.php
on line
91
Deprecated
: Non-static method JTable::addIncludePath() should not be called statically, assuming $this from incompatible context in
/home1/alekos/public_html/villamatella.gr/libraries/joomla/database/table.php
on line
91
Deprecated
: Non-static method JFactory::getDBO() should not be called statically, assuming $this from incompatible context in
/home1/alekos/public_html/villamatella.gr/libraries/joomla/database/table.php
on line
112
Deprecated
: Non-static method JFactory::getACL() should not be called statically, assuming $this from incompatible context in
/home1/alekos/public_html/villamatella.gr/libraries/joomla/user/user.php
on line
260
Deprecated
: Non-static method JFactory::getACL() should not be called statically, assuming $this from incompatible context in
/home1/alekos/public_html/villamatella.gr/libraries/joomla/user/user.php
on line
260
Deprecated
: Non-static method JFactory::getACL() should not be called statically, assuming $this from incompatible context in
/home1/alekos/public_html/villamatella.gr/libraries/joomla/user/user.php
on line
260
Deprecated
: Non-static method JRoute::_() should not be called statically, assuming $this from incompatible context in
/home1/alekos/public_html/villamatella.gr/components/com_content/views/article/view.html.php
on line
78
Deprecated
: Non-static method ContentHelperRoute::getArticleRoute() should not be called statically, assuming $this from incompatible context in
/home1/alekos/public_html/villamatella.gr/components/com_content/views/article/view.html.php
on line
78
Deprecated
: Non-static method ContentHelperRoute::_findItem() should not be called statically, assuming $this from incompatible context in
/home1/alekos/public_html/villamatella.gr/components/com_content/helpers/route.php
on line
49
Deprecated
: Non-static method JComponentHelper::getComponent() should not be called statically, assuming $this from incompatible context in
/home1/alekos/public_html/villamatella.gr/components/com_content/helpers/route.php
on line
97
Deprecated
: Non-static method JComponentHelper::_load() should not be called statically, assuming $this from incompatible context in
/home1/alekos/public_html/villamatella.gr/libraries/joomla/application/component/helper.php
on line
39
Deprecated
: Non-static method JApplication::getMenu() should not be called statically, assuming $this from incompatible context in
/home1/alekos/public_html/villamatella.gr/components/com_content/helpers/route.php
on line
99
Strict Standards
: Non-static method JLoader::import() should not be called statically in
/home1/alekos/public_html/villamatella.gr/libraries/loader.php
on line
186
Deprecated
: Non-static method JMenu::getInstance() should not be called statically, assuming $this from incompatible context in
/home1/alekos/public_html/villamatella.gr/libraries/joomla/application/application.php
on line
720
Deprecated
: Non-static method JError::isError() should not be called statically, assuming $this from incompatible context in
/home1/alekos/public_html/villamatella.gr/libraries/joomla/application/application.php
on line
721
Deprecated
: Non-static method JFactory::getApplication() should not be called statically, assuming $this from incompatible context in
/home1/alekos/public_html/villamatella.gr/libraries/joomla/methods.php
on line
41
Deprecated
: Non-static method JFactory::getConfig() should not be called statically, assuming $this from incompatible context in
/home1/alekos/public_html/villamatella.gr/includes/application.php
on line
372
Strict Standards
: Non-static method JLoader::import() should not be called statically in
/home1/alekos/public_html/villamatella.gr/libraries/loader.php
on line
186
Deprecated
: Non-static method JRouter::getInstance() should not be called statically, assuming $this from incompatible context in
/home1/alekos/public_html/villamatella.gr/libraries/joomla/application/application.php
on line
674
Deprecated
: Non-static method JError::isError() should not be called statically, assuming $this from incompatible context in
/home1/alekos/public_html/villamatella.gr/libraries/joomla/application/application.php
on line
675
Deprecated
: Non-static method JSite::getMenu() should not be called statically, assuming $this from incompatible context in
/home1/alekos/public_html/villamatella.gr/includes/router.php
on line
419
Deprecated
: Non-static method JApplication::getMenu() should not be called statically, assuming $this from incompatible context in
/home1/alekos/public_html/villamatella.gr/includes/application.php
on line
345
Strict Standards
: Non-static method JLoader::import() should not be called statically in
/home1/alekos/public_html/villamatella.gr/libraries/loader.php
on line
186
Deprecated
: Non-static method JMenu::getInstance() should not be called statically, assuming $this from incompatible context in
/home1/alekos/public_html/villamatella.gr/libraries/joomla/application/application.php
on line
720
Deprecated
: Non-static method JError::isError() should not be called statically, assuming $this from incompatible context in
/home1/alekos/public_html/villamatella.gr/libraries/joomla/application/application.php
on line
721
Strict Standards
: Non-static method JFactory::getConfig() should not be called statically in
/home1/alekos/public_html/villamatella.gr/plugins/system/jfrouter.php
on line
532
Strict Standards
: Non-static method JFactory::getConfig() should not be called statically in
/home1/alekos/public_html/villamatella.gr/plugins/system/jfrouter.php
on line
542
Strict Standards
: Non-static method plgSystemJFRouter::procesCustomBuildRule() should not be called statically in
/home1/alekos/public_html/villamatella.gr/plugins/system/jfrouter.php
on line
617
Deprecated
: Non-static method JFactory::getApplication() should not be called statically, assuming $this from incompatible context in
/home1/alekos/public_html/villamatella.gr/includes/router.php
on line
401
Deprecated
: Non-static method JSite::getMenu() should not be called statically, assuming $this from incompatible context in
/home1/alekos/public_html/villamatella.gr/includes/router.php
on line
295
Deprecated
: Non-static method JApplication::getMenu() should not be called statically, assuming $this from incompatible context in
/home1/alekos/public_html/villamatella.gr/includes/application.php
on line
345
Strict Standards
: Non-static method JLoader::import() should not be called statically in
/home1/alekos/public_html/villamatella.gr/libraries/loader.php
on line
186
Deprecated
: Non-static method JMenu::getInstance() should not be called statically, assuming $this from incompatible context in
/home1/alekos/public_html/villamatella.gr/libraries/joomla/application/application.php
on line
720
Deprecated
: Non-static method JError::isError() should not be called statically, assuming $this from incompatible context in
/home1/alekos/public_html/villamatella.gr/libraries/joomla/application/application.php
on line
721
Strict Standards
: Non-static method JSite::getMenu() should not be called statically in
/home1/alekos/public_html/villamatella.gr/components/com_content/router.php
on line
19
Strict Standards
: Non-static method JApplication::getMenu() should not be called statically in
/home1/alekos/public_html/villamatella.gr/includes/application.php
on line
345
Strict Standards
: Non-static method JLoader::import() should not be called statically in
/home1/alekos/public_html/villamatella.gr/libraries/loader.php
on line
186
Strict Standards
: Non-static method JMenu::getInstance() should not be called statically in
/home1/alekos/public_html/villamatella.gr/libraries/joomla/application/application.php
on line
720
Strict Standards
: Non-static method JError::isError() should not be called statically in
/home1/alekos/public_html/villamatella.gr/libraries/joomla/application/application.php
on line
721
Deprecated
: Non-static method JFactory::getApplication() should not be called statically, assuming $this from incompatible context in
/home1/alekos/public_html/villamatella.gr/includes/router.php
on line
90
Deprecated
: Non-static method JFactory::getConfig() should not be called statically, assuming $this from incompatible context in
/home1/alekos/public_html/villamatella.gr/libraries/joomla/application/application.php
on line
394
Deprecated
: Non-static method JFactory::getConfig() should not be called statically, assuming $this from incompatible context in
/home1/alekos/public_html/villamatella.gr/libraries/joomla/application/application.php
on line
394
Deprecated
: Non-static method JURI::base() should not be called statically, assuming $this from incompatible context in
/home1/alekos/public_html/villamatella.gr/includes/router.php
on line
109
Deprecated
: Non-static method JPluginHelper::importPlugin() should not be called statically, assuming $this from incompatible context in
/home1/alekos/public_html/villamatella.gr/components/com_content/views/article/view.html.php
on line
101
Deprecated
: Non-static method JPluginHelper::_load() should not be called statically, assuming $this from incompatible context in
/home1/alekos/public_html/villamatella.gr/libraries/joomla/plugin/helper.php
on line
92
Deprecated
: Non-static method JPluginHelper::_import() should not be called statically, assuming $this from incompatible context in
/home1/alekos/public_html/villamatella.gr/libraries/joomla/plugin/helper.php
on line
97
Strict Standards
: Non-static method JLoader::import() should not be called statically in
/home1/alekos/public_html/villamatella.gr/libraries/loader.php
on line
186
Strict Standards
: Non-static method JLoader::import() should not be called statically in
/home1/alekos/public_html/villamatella.gr/libraries/loader.php
on line
186
Strict Standards
: Non-static method JLoader::register() should not be called statically in
/home1/alekos/public_html/villamatella.gr/libraries/loader.php
on line
71
Deprecated
: Non-static method JDispatcher::getInstance() should not be called statically, assuming $this from incompatible context in
/home1/alekos/public_html/villamatella.gr/libraries/joomla/plugin/helper.php
on line
140
Deprecated
: Non-static method JPluginHelper::getPlugin() should not be called statically, assuming $this from incompatible context in
/home1/alekos/public_html/villamatella.gr/libraries/joomla/plugin/helper.php
on line
147
Deprecated
: Non-static method JPluginHelper::_load() should not be called statically, assuming $this from incompatible context in
/home1/alekos/public_html/villamatella.gr/libraries/joomla/plugin/helper.php
on line
41
Deprecated
: Non-static method JPluginHelper::getPlugin() should not be called statically, assuming $this from incompatible context in
/home1/alekos/public_html/villamatella.gr/plugins/content/hotmaps.php
on line
17
Deprecated
: Non-static method JPluginHelper::_load() should not be called statically, assuming $this from incompatible context in
/home1/alekos/public_html/villamatella.gr/libraries/joomla/plugin/helper.php
on line
41
Deprecated
: Non-static method JRegistryFormat::getInstance() should not be called statically, assuming $this from incompatible context in
/home1/alekos/public_html/villamatella.gr/libraries/joomla/registry/registry.php
on line
373
Deprecated
: Non-static method JFilterInput::clean() should not be called statically, assuming $this from incompatible context in
/home1/alekos/public_html/villamatella.gr/libraries/joomla/registry/format.php
on line
45
Deprecated
: Non-static method JPluginHelper::_import() should not be called statically, assuming $this from incompatible context in
/home1/alekos/public_html/villamatella.gr/libraries/joomla/plugin/helper.php
on line
97
Strict Standards
: Non-static method JLoader::import() should not be called statically in
/home1/alekos/public_html/villamatella.gr/libraries/loader.php
on line
186
Strict Standards
: Non-static method JLoader::import() should not be called statically in
/home1/alekos/public_html/villamatella.gr/libraries/loader.php
on line
186
Deprecated
: Non-static method JDispatcher::getInstance() should not be called statically, assuming $this from incompatible context in
/home1/alekos/public_html/villamatella.gr/libraries/joomla/plugin/helper.php
on line
140
Deprecated
: Non-static method JPluginHelper::getPlugin() should not be called statically, assuming $this from incompatible context in
/home1/alekos/public_html/villamatella.gr/libraries/joomla/plugin/helper.php
on line
147
Deprecated
: Non-static method JPluginHelper::_load() should not be called statically, assuming $this from incompatible context in
/home1/alekos/public_html/villamatella.gr/libraries/joomla/plugin/helper.php
on line
41
Deprecated
: Non-static method JPluginHelper::getPlugin() should not be called statically, assuming $this from incompatible context in
/home1/alekos/public_html/villamatella.gr/plugins/content/photogallery.php
on line
17
Deprecated
: Non-static method JPluginHelper::_load() should not be called statically, assuming $this from incompatible context in
/home1/alekos/public_html/villamatella.gr/libraries/joomla/plugin/helper.php
on line
41
Deprecated
: Non-static method JRegistryFormat::getInstance() should not be called statically, assuming $this from incompatible context in
/home1/alekos/public_html/villamatella.gr/libraries/joomla/registry/registry.php
on line
373
Deprecated
: Non-static method JFilterInput::clean() should not be called statically, assuming $this from incompatible context in
/home1/alekos/public_html/villamatella.gr/libraries/joomla/registry/format.php
on line
45
Deprecated
: Non-static method JPluginHelper::_import() should not be called statically, assuming $this from incompatible context in
/home1/alekos/public_html/villamatella.gr/libraries/joomla/plugin/helper.php
on line
97
Strict Standards
: Non-static method JLoader::import() should not be called statically in
/home1/alekos/public_html/villamatella.gr/libraries/loader.php
on line
186
Strict Standards
: Non-static method JLoader::import() should not be called statically in
/home1/alekos/public_html/villamatella.gr/libraries/loader.php
on line
186
Deprecated
: Non-static method JPlugin::loadLanguage() should not be called statically, assuming $this from incompatible context in
/home1/alekos/public_html/villamatella.gr/plugins/content/jfalternative.php
on line
38
Deprecated
: Non-static method JFactory::getLanguage() should not be called statically, assuming $this from incompatible context in
/home1/alekos/public_html/villamatella.gr/libraries/joomla/plugin/plugin.php
on line
113
Deprecated
: Non-static method JDispatcher::getInstance() should not be called statically, assuming $this from incompatible context in
/home1/alekos/public_html/villamatella.gr/libraries/joomla/application/application.php
on line
496
Deprecated
: Non-static method JDispatcher::getInstance() should not be called statically, assuming $this from incompatible context in
/home1/alekos/public_html/villamatella.gr/libraries/joomla/plugin/helper.php
on line
140
Strict Standards
: Non-static method JLoader::load() should not be called statically in
/home1/alekos/public_html/villamatella.gr/libraries/loader.php
on line
161
Strict Standards
: Non-static method JLoader::register() should not be called statically in
/home1/alekos/public_html/villamatella.gr/libraries/loader.php
on line
138
Deprecated
: Non-static method JPluginHelper::_import() should not be called statically, assuming $this from incompatible context in
/home1/alekos/public_html/villamatella.gr/libraries/joomla/plugin/helper.php
on line
97
Strict Standards
: Non-static method JLoader::import() should not be called statically in
/home1/alekos/public_html/villamatella.gr/libraries/loader.php
on line
186
Strict Standards
: Non-static method JLoader::import() should not be called statically in
/home1/alekos/public_html/villamatella.gr/libraries/loader.php
on line
186
Strict Standards
: Non-static method JLoader::import() should not be called statically in
/home1/alekos/public_html/villamatella.gr/libraries/loader.php
on line
186
Deprecated
: Non-static method JDispatcher::getInstance() should not be called statically, assuming $this from incompatible context in
/home1/alekos/public_html/villamatella.gr/libraries/joomla/plugin/helper.php
on line
140
Deprecated
: Non-static method JPluginHelper::getPlugin() should not be called statically, assuming $this from incompatible context in
/home1/alekos/public_html/villamatella.gr/libraries/joomla/plugin/helper.php
on line
147
Deprecated
: Non-static method JPluginHelper::_load() should not be called statically, assuming $this from incompatible context in
/home1/alekos/public_html/villamatella.gr/libraries/joomla/plugin/helper.php
on line
41
Deprecated
: Non-static method JRegistryFormat::getInstance() should not be called statically, assuming $this from incompatible context in
/home1/alekos/public_html/villamatella.gr/libraries/joomla/registry/registry.php
on line
373
Deprecated
: Non-static method JFilterInput::clean() should not be called statically, assuming $this from incompatible context in
/home1/alekos/public_html/villamatella.gr/libraries/joomla/registry/format.php
on line
45
Deprecated
: Non-static method JPluginHelper::_import() should not be called statically, assuming $this from incompatible context in
/home1/alekos/public_html/villamatella.gr/libraries/joomla/plugin/helper.php
on line
97
Strict Standards
: Non-static method JLoader::import() should not be called statically in
/home1/alekos/public_html/villamatella.gr/libraries/loader.php
on line
186
Strict Standards
: Non-static method JLoader::import() should not be called statically in
/home1/alekos/public_html/villamatella.gr/libraries/loader.php
on line
186
Deprecated
: Non-static method JDispatcher::getInstance() should not be called statically, assuming $this from incompatible context in
/home1/alekos/public_html/villamatella.gr/libraries/joomla/plugin/helper.php
on line
140
Deprecated
: Non-static method JPluginHelper::getPlugin() should not be called statically, assuming $this from incompatible context in
/home1/alekos/public_html/villamatella.gr/libraries/joomla/plugin/helper.php
on line
147
Deprecated
: Non-static method JPluginHelper::_load() should not be called statically, assuming $this from incompatible context in
/home1/alekos/public_html/villamatella.gr/libraries/joomla/plugin/helper.php
on line
41
Deprecated
: Non-static method JRegistryFormat::getInstance() should not be called statically, assuming $this from incompatible context in
/home1/alekos/public_html/villamatella.gr/libraries/joomla/registry/registry.php
on line
373
Deprecated
: Non-static method JFilterInput::clean() should not be called statically, assuming $this from incompatible context in
/home1/alekos/public_html/villamatella.gr/libraries/joomla/registry/format.php
on line
45
Deprecated
: Non-static method JPluginHelper::_import() should not be called statically, assuming $this from incompatible context in
/home1/alekos/public_html/villamatella.gr/libraries/joomla/plugin/helper.php
on line
97
Strict Standards
: Non-static method JLoader::import() should not be called statically in
/home1/alekos/public_html/villamatella.gr/libraries/loader.php
on line
186
Deprecated
: Non-static method JDispatcher::getInstance() should not be called statically, assuming $this from incompatible context in
/home1/alekos/public_html/villamatella.gr/libraries/joomla/application/application.php
on line
496
Deprecated
: Non-static method JDispatcher::getInstance() should not be called statically, assuming $this from incompatible context in
/home1/alekos/public_html/villamatella.gr/libraries/joomla/plugin/helper.php
on line
140
Strict Standards
: Non-static method JLoader::load() should not be called statically in
/home1/alekos/public_html/villamatella.gr/libraries/loader.php
on line
161
Strict Standards
: Non-static method JLoader::register() should not be called statically in
/home1/alekos/public_html/villamatella.gr/libraries/loader.php
on line
138
Deprecated
: Non-static method JPluginHelper::_import() should not be called statically, assuming $this from incompatible context in
/home1/alekos/public_html/villamatella.gr/libraries/joomla/plugin/helper.php
on line
97
Strict Standards
: Non-static method JLoader::import() should not be called statically in
/home1/alekos/public_html/villamatella.gr/libraries/loader.php
on line
186
Deprecated
: Non-static method JDispatcher::getInstance() should not be called statically, assuming $this from incompatible context in
/home1/alekos/public_html/villamatella.gr/libraries/joomla/application/application.php
on line
496
Deprecated
: Non-static method JDispatcher::getInstance() should not be called statically, assuming $this from incompatible context in
/home1/alekos/public_html/villamatella.gr/libraries/joomla/plugin/helper.php
on line
140
Strict Standards
: Non-static method JLoader::load() should not be called statically in
/home1/alekos/public_html/villamatella.gr/libraries/loader.php
on line
161
Strict Standards
: Non-static method JLoader::register() should not be called statically in
/home1/alekos/public_html/villamatella.gr/libraries/loader.php
on line
138
Deprecated
: Non-static method JPluginHelper::_import() should not be called statically, assuming $this from incompatible context in
/home1/alekos/public_html/villamatella.gr/libraries/joomla/plugin/helper.php
on line
97
Strict Standards
: Non-static method JLoader::import() should not be called statically in
/home1/alekos/public_html/villamatella.gr/libraries/loader.php
on line
186
Deprecated
: Non-static method JDispatcher::getInstance() should not be called statically, assuming $this from incompatible context in
/home1/alekos/public_html/villamatella.gr/libraries/joomla/application/application.php
on line
496
Deprecated
: Non-static method JDispatcher::getInstance() should not be called statically, assuming $this from incompatible context in
/home1/alekos/public_html/villamatella.gr/libraries/joomla/plugin/helper.php
on line
140
Strict Standards
: Non-static method JLoader::load() should not be called statically in
/home1/alekos/public_html/villamatella.gr/libraries/loader.php
on line
161
Strict Standards
: Non-static method JLoader::register() should not be called statically in
/home1/alekos/public_html/villamatella.gr/libraries/loader.php
on line
138
Deprecated
: Non-static method JPluginHelper::_import() should not be called statically, assuming $this from incompatible context in
/home1/alekos/public_html/villamatella.gr/libraries/joomla/plugin/helper.php
on line
97
Strict Standards
: Non-static method JLoader::import() should not be called statically in
/home1/alekos/public_html/villamatella.gr/libraries/loader.php
on line
186
Deprecated
: Non-static method JDispatcher::getInstance() should not be called statically, assuming $this from incompatible context in
/home1/alekos/public_html/villamatella.gr/libraries/joomla/application/application.php
on line
496
Deprecated
: Non-static method JDispatcher::getInstance() should not be called statically, assuming $this from incompatible context in
/home1/alekos/public_html/villamatella.gr/libraries/joomla/plugin/helper.php
on line
140
Strict Standards
: Non-static method JLoader::load() should not be called statically in
/home1/alekos/public_html/villamatella.gr/libraries/loader.php
on line
161
Strict Standards
: Non-static method JLoader::register() should not be called statically in
/home1/alekos/public_html/villamatella.gr/libraries/loader.php
on line
138
Deprecated
: Non-static method JPluginHelper::_import() should not be called statically, assuming $this from incompatible context in
/home1/alekos/public_html/villamatella.gr/libraries/joomla/plugin/helper.php
on line
97
Strict Standards
: Non-static method JLoader::import() should not be called statically in
/home1/alekos/public_html/villamatella.gr/libraries/loader.php
on line
186
Deprecated
: Non-static method JDispatcher::getInstance() should not be called statically, assuming $this from incompatible context in
/home1/alekos/public_html/villamatella.gr/libraries/joomla/application/application.php
on line
496
Deprecated
: Non-static method JDispatcher::getInstance() should not be called statically, assuming $this from incompatible context in
/home1/alekos/public_html/villamatella.gr/libraries/joomla/plugin/helper.php
on line
140
Strict Standards
: Non-static method JLoader::load() should not be called statically in
/home1/alekos/public_html/villamatella.gr/libraries/loader.php
on line
161
Strict Standards
: Non-static method JLoader::register() should not be called statically in
/home1/alekos/public_html/villamatella.gr/libraries/loader.php
on line
138
Deprecated
: Non-static method JPluginHelper::getPlugin() should not be called statically, assuming $this from incompatible context in
/home1/alekos/public_html/villamatella.gr/plugins/content/ppgallery.php
on line
23
Deprecated
: Non-static method JPluginHelper::_load() should not be called statically, assuming $this from incompatible context in
/home1/alekos/public_html/villamatella.gr/libraries/joomla/plugin/helper.php
on line
41
Deprecated
: Non-static method JRegistryFormat::getInstance() should not be called statically, assuming $this from incompatible context in
/home1/alekos/public_html/villamatella.gr/libraries/joomla/registry/registry.php
on line
373
Deprecated
: Non-static method JFilterInput::clean() should not be called statically, assuming $this from incompatible context in
/home1/alekos/public_html/villamatella.gr/libraries/joomla/registry/format.php
on line
45
Deprecated
: Non-static method JComponentHelper::getParams() should not be called statically, assuming $this from incompatible context in
/home1/alekos/public_html/villamatella.gr/plugins/content/ppgallery.php
on line
25
Deprecated
: Non-static method JComponentHelper::getComponent() should not be called statically, assuming $this from incompatible context in
/home1/alekos/public_html/villamatella.gr/libraries/joomla/application/component/helper.php
on line
83
Deprecated
: Non-static method JComponentHelper::_load() should not be called statically, assuming $this from incompatible context in
/home1/alekos/public_html/villamatella.gr/libraries/joomla/application/component/helper.php
on line
39
Deprecated
: Non-static method JRegistryFormat::getInstance() should not be called statically, assuming $this from incompatible context in
/home1/alekos/public_html/villamatella.gr/libraries/joomla/registry/registry.php
on line
373
Deprecated
: Non-static method JFilterInput::clean() should not be called statically, assuming $this from incompatible context in
/home1/alekos/public_html/villamatella.gr/libraries/joomla/registry/format.php
on line
45
Strict Standards
: Non-static method JLoader::import() should not be called statically in
/home1/alekos/public_html/villamatella.gr/libraries/loader.php
on line
186
Deprecated
: Non-static method JFactory::getApplication() should not be called statically, assuming $this from incompatible context in
/home1/alekos/public_html/villamatella.gr/plugins/content/jw_sig.php
on line
50
Deprecated
: Non-static method JFactory::getDocument() should not be called statically, assuming $this from incompatible context in
/home1/alekos/public_html/villamatella.gr/plugins/content/jw_sig.php
on line
51
Deprecated
: Non-static method JURI::root() should not be called statically, assuming $this from incompatible context in
/home1/alekos/public_html/villamatella.gr/plugins/content/jw_sig.php
on line
55
Deprecated
: Non-static method JPluginHelper::isEnabled() should not be called statically, assuming $this from incompatible context in
/home1/alekos/public_html/villamatella.gr/plugins/content/jw_sig.php
on line
65
Deprecated
: Non-static method JPluginHelper::getPlugin() should not be called statically, assuming $this from incompatible context in
/home1/alekos/public_html/villamatella.gr/libraries/joomla/plugin/helper.php
on line
75
Deprecated
: Non-static method JPluginHelper::_load() should not be called statically, assuming $this from incompatible context in
/home1/alekos/public_html/villamatella.gr/libraries/joomla/plugin/helper.php
on line
41
Deprecated
: Non-static method JRequest::getCmd() should not be called statically, assuming $this from incompatible context in
/home1/alekos/public_html/villamatella.gr/plugins/content/jw_sig.php
on line
69
Deprecated
: Non-static method JRequest::getVar() should not be called statically, assuming $this from incompatible context in
/home1/alekos/public_html/villamatella.gr/libraries/joomla/environment/request.php
on line
255
Deprecated
: Non-static method JRequest::_cleanVar() should not be called statically, assuming $this from incompatible context in
/home1/alekos/public_html/villamatella.gr/libraries/joomla/environment/request.php
on line
134
Deprecated
: Non-static method JFilterInput::getInstance() should not be called statically, assuming $this from incompatible context in
/home1/alekos/public_html/villamatella.gr/libraries/joomla/environment/request.php
on line
577
Strict Standards
: Non-static method JLoader::load() should not be called statically in
/home1/alekos/public_html/villamatella.gr/libraries/loader.php
on line
161
Strict Standards
: Non-static method JLoader::register() should not be called statically in
/home1/alekos/public_html/villamatella.gr/libraries/loader.php
on line
138
Deprecated
: iconv_set_encoding(): Use of iconv.internal_encoding is deprecated in
/home1/alekos/public_html/villamatella.gr/libraries/joomla/utilities/string.php
on line
32
Deprecated
: iconv_set_encoding(): Use of iconv.input_encoding is deprecated in
/home1/alekos/public_html/villamatella.gr/libraries/joomla/utilities/string.php
on line
33
Deprecated
: iconv_set_encoding(): Use of iconv.output_encoding is deprecated in
/home1/alekos/public_html/villamatella.gr/libraries/joomla/utilities/string.php
on line
34
Deprecated
: Non-static method JString::strpos() should not be called statically, assuming $this from incompatible context in
/home1/alekos/public_html/villamatella.gr/plugins/content/jw_sig.php
on line
72
Strict Standards
: Non-static method JString::strpos() should not be called statically in
/home1/alekos/public_html/villamatella.gr/plugins/content/emailcloak.php
on line
67
Strict Standards
: Non-static method JString::strpos() should not be called statically in
/home1/alekos/public_html/villamatella.gr/plugins/content/emailcloak.php
on line
73
Strict Standards
: Non-static method JPluginHelper::getPlugin() should not be called statically in
/home1/alekos/public_html/villamatella.gr/plugins/content/emailcloak.php
on line
77
Strict Standards
: Non-static method JPluginHelper::_load() should not be called statically in
/home1/alekos/public_html/villamatella.gr/libraries/joomla/plugin/helper.php
on line
41
Deprecated
: Non-static method JRegistryFormat::getInstance() should not be called statically, assuming $this from incompatible context in
/home1/alekos/public_html/villamatella.gr/libraries/joomla/registry/registry.php
on line
373
Deprecated
: Non-static method JFilterInput::clean() should not be called statically, assuming $this from incompatible context in
/home1/alekos/public_html/villamatella.gr/libraries/joomla/registry/format.php
on line
45
Strict Standards
: Non-static method JString::strpos() should not be called statically in
/home1/alekos/public_html/villamatella.gr/plugins/content/emailcloak.php
on line
113
Strict Standards
: Non-static method JFactory::getDBO() should not be called statically in
/home1/alekos/public_html/villamatella.gr/plugins/content/loadmodule.php
on line
24
Strict Standards
: Non-static method JString::strpos() should not be called statically in
/home1/alekos/public_html/villamatella.gr/plugins/content/loadmodule.php
on line
26
Strict Standards
: Non-static method JPluginHelper::getPlugin() should not be called statically in
/home1/alekos/public_html/villamatella.gr/plugins/content/pagebreak.php
on line
39
Strict Standards
: Non-static method JPluginHelper::_load() should not be called statically in
/home1/alekos/public_html/villamatella.gr/libraries/joomla/plugin/helper.php
on line
41
Deprecated
: Non-static method JRegistryFormat::getInstance() should not be called statically, assuming $this from incompatible context in
/home1/alekos/public_html/villamatella.gr/libraries/joomla/registry/registry.php
on line
373
Deprecated
: Non-static method JFilterInput::clean() should not be called statically, assuming $this from incompatible context in
/home1/alekos/public_html/villamatella.gr/libraries/joomla/registry/format.php
on line
45
Strict Standards
: Non-static method JRequest::getBool() should not be called statically in
/home1/alekos/public_html/villamatella.gr/plugins/content/pagebreak.php
on line
42
Strict Standards
: Non-static method JRequest::getVar() should not be called statically in
/home1/alekos/public_html/villamatella.gr/libraries/joomla/environment/request.php
on line
217
Strict Standards
: Non-static method JRequest::_cleanVar() should not be called statically in
/home1/alekos/public_html/villamatella.gr/libraries/joomla/environment/request.php
on line
151
Strict Standards
: Non-static method JFilterInput::getInstance() should not be called statically in
/home1/alekos/public_html/villamatella.gr/libraries/joomla/environment/request.php
on line
577
Strict Standards
: Non-static method JRequest::getBool() should not be called statically in
/home1/alekos/public_html/villamatella.gr/plugins/content/pagebreak.php
on line
43
Strict Standards
: Non-static method JRequest::getVar() should not be called statically in
/home1/alekos/public_html/villamatella.gr/libraries/joomla/environment/request.php
on line
217
Strict Standards
: Non-static method JRequest::_cleanVar() should not be called statically in
/home1/alekos/public_html/villamatella.gr/libraries/joomla/environment/request.php
on line
151
Strict Standards
: Non-static method JFilterInput::getInstance() should not be called statically in
/home1/alekos/public_html/villamatella.gr/libraries/joomla/environment/request.php
on line
577
Strict Standards
: Non-static method JPlugin::loadLanguage() should not be called statically in
/home1/alekos/public_html/villamatella.gr/plugins/content/pagebreak.php
on line
45
Strict Standards
: Non-static method JFactory::getLanguage() should not be called statically in
/home1/alekos/public_html/villamatella.gr/libraries/joomla/plugin/plugin.php
on line
113
Deprecated
: Non-static method JRegistryFormat::getInstance() should not be called statically, assuming $this from incompatible context in
/home1/alekos/public_html/villamatella.gr/libraries/joomla/registry/registry.php
on line
373
Deprecated
: Non-static method JFilterInput::clean() should not be called statically, assuming $this from incompatible context in
/home1/alekos/public_html/villamatella.gr/libraries/joomla/registry/format.php
on line
45
Deprecated
: Non-static method JSite::getMenu() should not be called statically, assuming $this from incompatible context in
/home1/alekos/public_html/villamatella.gr/components/com_content/views/article/view.html.php
on line
110
Deprecated
: Non-static method JApplication::getMenu() should not be called statically, assuming $this from incompatible context in
/home1/alekos/public_html/villamatella.gr/includes/application.php
on line
345
Strict Standards
: Non-static method JLoader::import() should not be called statically in
/home1/alekos/public_html/villamatella.gr/libraries/loader.php
on line
186
Deprecated
: Non-static method JMenu::getInstance() should not be called statically, assuming $this from incompatible context in
/home1/alekos/public_html/villamatella.gr/libraries/joomla/application/application.php
on line
720
Deprecated
: Non-static method JError::isError() should not be called statically, assuming $this from incompatible context in
/home1/alekos/public_html/villamatella.gr/libraries/joomla/application/application.php
on line
721
Deprecated
: Non-static method JFactory::getConfig() should not be called statically, assuming $this from incompatible context in
/home1/alekos/public_html/villamatella.gr/libraries/joomla/application/application.php
on line
394
Deprecated
: Non-static method JFactory::getDocument() should not be called statically, assuming $this from incompatible context in
/home1/alekos/public_html/villamatella.gr/libraries/joomla/application/application.php
on line
931
Deprecated
: Non-static method JFactory::getConfig() should not be called statically, assuming $this from incompatible context in
/home1/alekos/public_html/villamatella.gr/libraries/joomla/application/application.php
on line
394
Deprecated
: Non-static method JFactory::getDocument() should not be called statically, assuming $this from incompatible context in
/home1/alekos/public_html/villamatella.gr/libraries/joomla/application/application.php
on line
931
Deprecated
: Non-static method JRegistryFormat::getInstance() should not be called statically, assuming $this from incompatible context in
/home1/alekos/public_html/villamatella.gr/libraries/joomla/registry/registry.php
on line
373
Deprecated
: Non-static method JFilterInput::clean() should not be called statically, assuming $this from incompatible context in
/home1/alekos/public_html/villamatella.gr/libraries/joomla/registry/format.php
on line
45
Strict Standards
: Non-static method JRequest::getCmd() should not be called statically in
/home1/alekos/public_html/villamatella.gr/plugins/content/pagenavigation.php
on line
21
Strict Standards
: Non-static method JRequest::getVar() should not be called statically in
/home1/alekos/public_html/villamatella.gr/libraries/joomla/environment/request.php
on line
255
Strict Standards
: Non-static method JRequest::_cleanVar() should not be called statically in
/home1/alekos/public_html/villamatella.gr/libraries/joomla/environment/request.php
on line
134
Strict Standards
: Non-static method JFilterInput::getInstance() should not be called statically in
/home1/alekos/public_html/villamatella.gr/libraries/joomla/environment/request.php
on line
577
Strict Standards
: Non-static method JPluginHelper::getPlugin() should not be called statically in
/home1/alekos/public_html/villamatella.gr/plugins/content/pagenavigation.php
on line
24
Strict Standards
: Non-static method JPluginHelper::_load() should not be called statically in
/home1/alekos/public_html/villamatella.gr/libraries/joomla/plugin/helper.php
on line
41
Strict Standards
: Non-static method JFactory::getURI() should not be called statically in
/home1/alekos/public_html/villamatella.gr/plugins/content/vote.php
on line
21
Strict Standards
: Non-static method JLoader::import() should not be called statically in
/home1/alekos/public_html/villamatella.gr/libraries/loader.php
on line
186
Strict Standards
: Non-static method JURI::getInstance() should not be called statically in
/home1/alekos/public_html/villamatella.gr/libraries/joomla/factory.php
on line
403
Deprecated
: Non-static method JRequest::getBool() should not be called statically, assuming $this from incompatible context in
/home1/alekos/public_html/villamatella.gr/components/com_content/views/article/view.html.php
on line
183
Deprecated
: Non-static method JRequest::getVar() should not be called statically, assuming $this from incompatible context in
/home1/alekos/public_html/villamatella.gr/libraries/joomla/environment/request.php
on line
217
Deprecated
: Non-static method JRequest::_cleanVar() should not be called statically, assuming $this from incompatible context in
/home1/alekos/public_html/villamatella.gr/libraries/joomla/environment/request.php
on line
151
Deprecated
: Non-static method JFilterInput::getInstance() should not be called statically, assuming $this from incompatible context in
/home1/alekos/public_html/villamatella.gr/libraries/joomla/environment/request.php
on line
577
Strict Standards
: Non-static method JLoader::import() should not be called statically in
/home1/alekos/public_html/villamatella.gr/libraries/loader.php
on line
186
Deprecated
: Non-static method JPath::find() should not be called statically, assuming $this from incompatible context in
/home1/alekos/public_html/villamatella.gr/libraries/joomla/application/component/view.php
on line
547
Deprecated
: Non-static method JError::isError() should not be called statically, assuming $this from incompatible context in
/home1/alekos/public_html/villamatella.gr/libraries/joomla/application/component/view.php
on line
193
Deprecated
: Non-static method JFactory::getACL() should not be called statically, assuming $this from incompatible context in
/home1/alekos/public_html/villamatella.gr/libraries/joomla/user/user.php
on line
260
Deprecated
: Non-static method JFactory::getACL() should not be called statically, assuming $this from incompatible context in
/home1/alekos/public_html/villamatella.gr/libraries/joomla/user/user.php
on line
260
Matella's Restaurant
Food for everyone
Το εστιατόριο Matella's άνοιξε τον Ιούνιο του 1986.Έκτοτε και με μία «φοροτεχνική» διακοπή (2005-2010) η κουζίνα του προσφέρει «σπιτικό» φαγητό με καθημερινές αλλαγές, σε τιμές για όλους.
Το μενού συνδυάζει μαγειρευτά ελληνικά παραδοσιακά πιάτα αλλά και specialities της διεθνούς μαγειρικής. Best sellers εδώ και 22 χρόνια το fisherman's σαγανάκι, το στιφάδο, ο μουσακάς, κεφτέδες σε σάλτσα ντομάτας, το oriental chicken curry και οι δικές μας γλυκές κρέπες(pancakes).
Από το 2012 η τραπεζαρία μεγάλωσε συνδυάζοντας στο νέο sea view roof garden κομψό περιβάλλον και καλό φαγητό.
Από εδώ θα σας παρουσιάζουμε όχι μόνο τα νέα του Matella's αλλά και ό,τιδήποτε φρέσκο «μαγειρευτό» νέο μας εντυπωσιάζει
Μπορείτε να προσθέσετε και εσείς στην κουζίνα μας  ό,τι σας αρέσει ή ό,τι μπορεί να προσθέσει καλύτερη γεύση στον ουρανίσκο.
Καλή μας όρεξη
---
MATELLA'S RESTAURANT-KALAMI
FOOD FOR EVERYONE
ROOF GARDEN
SEA VIEW BAR
LUNCH TIME 12.30-14.30 pm
*CHICKEN SOUVLAKI
WITH PITTA BREAD   4.00€
*PORK SOUVLAKI
WITH PITTA BREAD   4.00€
*TORTILLA WITH PORK OR CHICKEN 4.00€
KALAMI CORFU
Ladies and gentlemen we wish you a pleasant flight
19/6/2013
Since it's summertime, I will share something "fresh", from Vicky Smirli's amazing book "Traveler in the Kitchen" and thank the God of Travel for the memorable moments had in our "professional" journeys and for the amazing experiences that are in store for future lucky travelers.
I wholeheartedly dedicate all the recipes that I have chosen from many amazing old and new cookbooks to those who have worked or work in aviation.
Travelling does not only improve our grasp of geography, history and culture, but it also helps us broaden our minds with valuable lessons in dignity and humility.
I also discovered through cooking that the ingredients and preparation of a recipe can lead us to the very same destination.
When I first started cooking I received many comments such as "How are you going to cook? You don't even know what salt is!"
"Yes," I replied, "but for the past 25 years that I have been travelling, I have tasted local delicacies which include salt".
It had never crossed my mind that while preparing Indian curry, along with the ingredients I would add in the pan, I would also add my life experiences. Nothing is wasted, neither ingredients, nor effort. It's like starting from nothing to create "something". It's like moving from something good to something even better.
I never thought that the preparation of a "mousaka" dish – and what that entails – would be equally interesting and wonderful with a visit to a good museum.
No matter how many books are written, no matter how many recipes exist, they will be never enough; and I say this because of the oft-repeated question: "why all this fuss about cooking?"
In every recipe, there is always one detail that makes the difference. Like in most things such as art, fashion, jewelry etc, it's always a small detail that makes an impression.
All this is on one condition, a dream shared by all cooks, I imagine, that no one should go hungry; there should be enough food for everyone.
We really hope that from our little restaurant, our plea will reach the powerful leaders of the world and regardless of financial indices, that they will make sure that cooking is not an art or privilege but a reality and everyone's right.
We agree with you, Vicky Smirli. Cooking is always a journey.
And now, as they say: Ladies and gentlemen, we wish you a pleasant flight.
Thank you.
Varvara Katsarou
Matella's Restaurant
Mexican cuisine
Κρύο τσάι με φρούτα
Thandi chai(ινδικό)
ΥΛΙΚΑ
ΓΙΑ 1 ΛΙΤΡΟ
3 φλιτζάνια νερό
1 ξυλάκι κανέλα 10 εκατοστά
4-5 γαρίφαλα καρφάκια
3 κουταλιές του τσαγιού κοφτές τσάι Earl Grey για άρωμα
150γρ ζάχαρη
1,5 φλιτζάνι χυμό φρούτων
1 μικρό λεμόνι σε φέτες
1 μικρό πορτοκάλι σε φέτες
1 μικρό αγγούρι σε ροδέλες
Εκτέλεση:
Βράζετε το νερό με την κανέλα και το γαρίφαλο. Προσθέτετε το τσάι και το αφήνετε να σκουρύνει αρκετά.Το στραγγίζετε και το μεταφέρετε σε μία κανάτα. Προσθέτετε τη ζάχαρη και την ανακατεύετε. Προσθέτετε το χυμό, τις φέτες και το αγγούρι.Αφήνετε το τσάι στο ψυγείο να κρυώσει πριν  το σερβίρετε.
Source: ΤΑΞΙΔΙΩΤΗΣ ΣΤΗΝ ΚΟΥΖΙΝΑ  ΒΙΚΥ ΣΜΥΡΛΗ
Yotam Ottolenghi:Cooking style
Ottolenghi's cooking style is rooted in, but not confined to, his Middle Eastern upbringing: "a distinctive mix of Middle Eastern flavours – Syrian, Turkish, Lebanese, Iranian, Israeli and Armenian – with a western twist". His "particular skill is in marrying the food of his native Israel with a wider range of incredible textures and flavours from the Mediterranean, Middle East and Asia. To compile a take-out box of goodies [. . . ] is to fulfil a culinary fantasy'. His palate of flavours is unapologetically bold and loud: "noisy". Signature dishes include his butternut squash salad with red onion, tahini and za'atar , roasted aubergine with turmeric yogurt and pomegranate seeds , chargrilled broccoli with chilli and fried garlic and the famously enormous "traffic-stopping, cartoonishly-huge horned"' meringues.
Source: http://en.wikipedia.org/wiki/Yotam_Ottolenghi#Style_of_cooking
Fresh curry leaves and black cardamom makes this curry sing. If you prefer lamb to mutton, reduce the cooking time by 1 hour.
Serves four to six 1kg mutton meat, cut into 4cm pieces 60ml lime juice 2½ tsp curry powder ½ tsp smoky paprika 1 tsp caster sugar 3 garlic cloves, peeled and sliced thin Salt and black pepper 14 black cardamom pods, lightly broken 12 fresh curry leaves ½ red chilli, thinly sliced 10g ginger, peeled and finely chopped Sunflower oil, for frying 600g charlotte potatoes, peeled and cut into 2cm dice 3 red peppers, deseeded and cut into 2cm pieces 6 spring onions, cut on an angle into 2cm slices 100ml coconut milk (optional) Put the mutton in a large bowl with three tablespoons of lime juice, one and a half teaspoons of curry powder, the paprika, sugar, garlic, half a teaspoon of salt and some pepper. Mix, cover and marinate in the fridge for at least two hours. Place a large, heavy-based pan on high heat and brown the meat all over (if it catches, add a little oil). Reduce the heat to low, cover and leave the meat to simmer gently in its own juices for about three hours, until tender. Check occasionally that there is enough liquid in the pan: you will need to add water a few times, but make sure there is no more than 1cm of liquid. When the meat's been cooking for two hours (1 hour for lamb), add the cardamom, curry leaves, chilli and ginger. While the meat is cooking, pour sunflower oil into a large frying pan so it comes 0.5cm up the sides. Add the potatoes and fry for 10 minutes, stirring occasionally, until golden-brown. Transfer to kitchen towel. When the meat is done, remove from the pan with a slotted spoon, then skim as much fat as you can off the surface of the juices. Add the red peppers, remaining curry powder and a quarter-teaspoon of salt, and cook, stirring, on high heat for three minutes. Add the potato and spring onion, sauté for a minute, then return the meat to the pan. Add the remaining lime juice and the coconut milk, heat up and serve at once.
This entry was posted in From Yotam, Recipes on February 5, 2013 by Maria.
Source: http://www.ottolenghi.co.uk/blog/category/recipes/
Jamie Oliver:
Beef & vegetable stir-fry
Jamie's Oliver charity
Oliver conceived and established the Fifteen charity restaurant, where he trained fifteen disadvantaged young people to work in the hospitality industry. Following the success of the original restaurant in London, more Fifteens have opened around the globe: Fifteen Amsterdam opened in December 2004, Fifteen Cornwall in Newquay in May 2006 and Fifteen Melbourne in September 2006 with Australian friend and fellow chef Tobie Puttock.
Oliver then began a formal campaign to ban unhealthy food in British schools and to get children eating nutritious food instead. Oliver's efforts to bring radical change to the school meals system, chronicled in the series Jamie's School Dinners, challenged the junk-food culture by showing schools they could serve healthy, cost-efficient meals that kids enjoyed eating. Jamie's efforts brought the subject of school dinners to the political forefront and changed the types of food served in schools. In 2012, after supporting Scottish primary school blogger Martha Payne in her NeverSeconds blog, Oliver attacked education secretary Michael Gove for failing to adhere to the standards agreed to by the previous administration.
In December 2009, Oliver was awarded the 2010 TED Prize for his campaigns to "create change on both the individual and governmental levels" in order to "bring attention to the changes Englanders and now Americans need to make in their lifestyles and diet."
In 2010, Oliver joined several other celebrity chefs on the series The Big Fish Fight, in which Oliver and fellow chef Gordon Ramsay spend time on a trawler boat to raise awareness about the discarding of hundreds of thousands of saltwater fish because the fishermen are prohibited from keeping any fish other than the stated target of the trawl.
Oliver is a patron of environmental charity Trees for Cities.
source:http://en.wikipedia.org/wiki/Jamie_Oliver#Charity_and_campaigning
ΒΛΑΧΙΚΕΣ ΓΕΥΣΕΙΣ
Κολοκυθόπιτα
Τα υλικά μας είναι: μία κολοκύθα κίτρινη ½ κιλό γάλα, δύο αβγά,3 χούφτες ζάχαρη, μία χούφτα τραχανά, 12 κουταλιές φέτα,αλεύρι,βούτιρο.Καθαρίζουμε την κολοκύθα και την τρίβουμε με τη χοντρή πλευρά του τρίφτη. Την στραγγίζουμε καλά και την αδειάζουμε σε μία λεκάνη. Προσθέτουμε το γάλα,τα αβγά, τη ζάχαρη, τον τραχανά και την φέτα και ανακατεύουμε καλά. Βουτυρώνουμε ένα ταψί, απλώνουμε σε όλη την επιφάνια αλεύρι και αδειάζουμε τη γέμιση. Σκεπάζουμε τη γέμιση με μία στρώση αλεύρι και αφήνουμε την πίτα  να «σταθεί» τρείς ώρες. Κατόπιν την πασπαλίζουμε με λίγο λάδι και την ψήνουμε στους 180C μέχρι να ροδίσει.
Από τη σειρά ΡΙΖΕΣ ΕΛΛΗΝΩΝ εκδόσεις ΠΗΓΑΣΟΣ
ΒΛΑΧΙΚΕΣ ΓΕΥΣΕΙΣ-παραδοσιακή κουζίνα των Βλάχων
Έχουν περάσει αρκετοί αιώνες από τότε που άρχισαν οι Βλάχοι να διαδραματίζουν ρόλο στα πράγματα της Βαλκανικής και κοντά 100 χρόνια από τότε που ανακινήθηκαν  ζητήματα που σχετίζονται μαζί τους.
Άλλο εννοούμε εμείς όταν λέμε Βλάχοι και άλλο κάποιοι άλλοι-για αυτό υπάρχουν προσδιορισμοί όπως: οι Κουτσόβλαχοι, οι Αρβανιτόβλαχοι, οι Ελληνόβλαχοι ενώ τελικά αλλιώς  αυτοπροσδιορίζονται οι ίδιοι οι Βλάχοι.
Ως λαός λοιπόν ας διαβάζουμε ιστορία για να μπορούμε να την ερμηνεύουμε σωστά.
Κουνουπιδι με ταχίνι
Υλικά
1 μέτριο κουνουπίδι
3 κουταλιές ταχίνι
Χυμό 2 λεμονιών
2 ντομάτες
2 πατάτες βραστές
Μισό φλιτζάνι καρύδι τριμμένο
Αλάτι
Ρίγανη
Εκτέλεση
Πλένουμε το κουνουπίδι και το βράζουμε χωρίς να λιώσει.Κατόπιν το τοποθετούμε τεμαχισμένο σε μία βαθιά σαλατιέρα. Τεμαχίζουμε τις ντομάτες και τις πατάτες και ανακατεύουμε. Στη συνέχεια σε ένα μπολ διαλύουμε το ταχίνι με το χυμό των λεμονιών προσθέτουμε αλάτι και ρίγανη και περιχύνουμε το κουνουπίδι. Προσθέτουμε και το τριμμένο καρύδι και σερβίρουμε.
Από το βιβλίο ΟΡΘΟΔΟΞΟΣ ΔΙΑΤΡΟΦΗ
Της ΘΩΜΑΪΔΟΣ ΚΙΖΙΡΙΔΟΥ
CURRY POWDER
Question: What is "curry powder" and does all Indian food contain it?
Answer:
'Curry' is synonymous with Indian food and 'curry powder' is thought of as its key ingredient. This is a misconception though, as all Indian food does not contain 'curry powder'. This all-important powder is actually a mix of spices collectively known as garam masala. It is added to some dishes along with other spices to enhance their flavor and aroma. While the basic ingredients used are the same, each household has its own proportions so that the end result will often differ from home to home. The better the quality of the ingredients, the tastier the garam masala and the resulting dish in which it is used.
Most Indians still prefer to prepare their own garam masala just prior to cooking. Making your own can seem intimidating if you're just starting out with Indian cooking, but the recipe and a good coffee grinder is all it takes! There's nothing to beat the flavor of fresh garam masala!
SOURCE: http://indianfood.about.com/od/frequentlyaskedquestions/f/curryfaq.htm
GARAM MASALA
This easy-to-make spice blend is the heart of most Indian dishes. A combination of different spices, it probably has as many recipes as there are families in India! Here is a basic one. Once you get a feel for the taste it gives your cooking, experiment and alter it to suit your needs.
Garam masala is best made fresh just before you begin cooking, but if you haven't got the patience (like me!), make a batch ahead and store for several months in an air-tight container in a cool, dark place.
Prep Time: 10 minutes
Cook Time: 4 minutes
Total Time: 14 minutes
Ingredients:
4 tbsps coriander seeds
1 tbsp cumin seeds
1 tbsp black peppercorns

1 ½ tsps black cumin seeds (shahjeera)

1 ½ tsps dry ginger

¾ tsp black cardamom (3-4 large pods approx)

¾ tsp cloves
¾ tsp cinnamon (2 X 1" pieces)
¾ tsp crushed bay leaves
Preparation:
Heat a heavy skillet on a medium flame and gently roast all ingredients (leave cardamom in its pods till later) except the dry ginger, till they turn a few shades darker. Stir occasionally. Do not be tempted to speed up the process by turning up the heat as the spices will burn on the outside and remain raw on the inside.

When the spices are roasted turn off the heat and allow them to cool.

Once cooled, remove the cardamom seeds from their skins and mix them back with all the other roasted spices.

Grind them all together, to a fine powder in a clean, dry coffee grinder.

Store in an air-tight container in a cool, dark place.
Richard Branson: Never do anything that discredits the brand
The Virgin founder on the lessons of turning failure into success, the ice-bucket challenge and space travel
JACK MONROE
COOK. CAMPAIGNER. GUARDIAN RECIPE COLUMNIST. RED MAGAZINE'S WOMAN OF THE YEAR. AUTHOR OF 'A GIRL CALLED JACK' & 'A YEAR IN 120 RECIPES'. COOKS, WRITES, GROWS SOME STUFF, EATS. TWITTER: @MSJACKMONROE
Faul & Wad Ad vs. Pnau - Changes
Nigel Slater's pizza recipes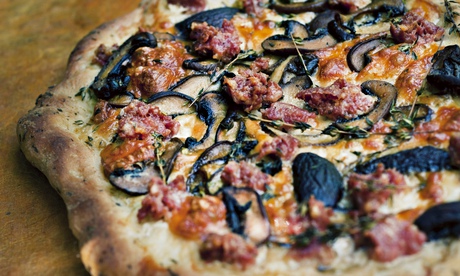 Homemade dough, flecked with seeds, will fill your home with a glorious smell – especially if you top the pizzas with rich and seasonal ingredients
I have my ball of dough, soft and floury to the touch, kneaded with love and energy and ready to roll into the thinnest piece I can manage. All I need now is something interesting and suitably autumnal to sit on top of it.
There are as many options for finishing a homemade pizza as there are cooks. Give me fried garlic mushrooms with melting mozzarella, spicy sausage with smoked cheese, or perhaps crème fraîche and basil with grilled aubergine and thyme. Or what about a layer of pesto with grilled courgettes and Parmesan, or an assembly of marinated artichokes, the chargrilled sort from the deli counter, with green olives and flat-leaf parsley?
Five Varieties
Our selected recipes show that not all fruitcakes are alike. There is a fruitcake for everyone -- you will miss out if you dismiss it (listed as pictured from top to bottom).
Η σούπα του Ιπποκράτη -Ενα φάρμακο που έρχεται από την αρχαιότητα [εικόνες]
Η σούπα του Ιπποκράτη επανεφευρέθηκε από τον αμερικανό Δρ Max Gerson. Η διάσημη διατροφή Gerson έιναι ευεργετική και λέγεται ότι βοηθάει στην θεραπεία πολλών ανθρώπων, με ανίατες ασθένειες όπως καρκίνος , φυματίωση , διαβήτης, αρθρίτιδα , αλλεργίες, έλκη , καρδιακές παθήσεις, αρτηριοσκλήρωση , ψυχικές νόσοι, νεφρική νόσο, σκλήρυνση κατά πλάκας.
Αυτή είναι μια συνταγή σούπας που θεραπεύει και ενισχύει το ανοσοποιητικό σύστημα και τα νεφρά. Με τη μόνη διαφορά ότι οι Αρχαίοι δεν είχαν πατάτες, τις οποίες έχει προσθέσει ο αμερικανός γιατρός.
Strict Standards
: Non-static method JLoader::import() should not be called statically in
/home1/alekos/public_html/villamatella.gr/libraries/loader.php
on line
186
Deprecated
: Non-static method JPathway::getInstance() should not be called statically, assuming $this from incompatible context in
/home1/alekos/public_html/villamatella.gr/libraries/joomla/application/application.php
on line
697
Deprecated
: Non-static method JError::isError() should not be called statically, assuming $this from incompatible context in
/home1/alekos/public_html/villamatella.gr/libraries/joomla/application/application.php
on line
698
Deprecated
: Non-static method JError::isError() should not be called statically, assuming $this from incompatible context in
/home1/alekos/public_html/villamatella.gr/libraries/joomla/cache/cache.php
on line
229
About Us
Villa Matella successfully bonds the 250 years of her history with modern accommodation services.